Dying Cancer Patient Get's His Last Wish Granted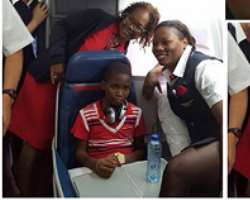 A Ghanaian cancer patient, a young boy, has gotten his dying wish granted by the hospital staff after he requested that he is allowed to have a feel of the interior of a plane.
The young boy is said to be suffering from a terminal form of cancer and has been bed ridden at home for a long time because the parents could not afford his medical bills.
According to Ghanacelebrities, the sickness has gone beyond what the doctors can handle and since the young boy now knows his faith, he decided to make a last wish which was granted.
It was also learnt that the hospital had to take him in an ambulance to the Kotoka airport, Ghana, after they had teamed up with Delta Airlines to grant him his last wish.