American Rapper, Wale Laments About Power Failure and Health Issues in Lagos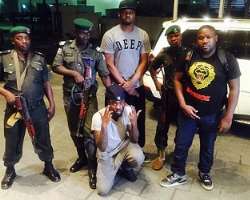 Nigerian-born American rapper, Wale, is currently in Lagos as he had to breeze into the country as he was part of the top celebrities that graced the wedding of Toolz and Tunde over the weekend.
But pending the time he is to spend in the country, the singer is not enjoying his stay in the country as he is already complaining about what the citizens are already use to which is power failure.
The singer recently disclosed that the power situation in the country is so bad especially on the Island that the light goes off randomly. "The power always just cuts off randomly on the island."
Aside just lamenting about the light problem, the singer also took a swipe on the Lagos doctors after he had a little tumble and needed medical care.
In his words, "I took a mean tumble yesterday I may have the crutches swag tomorrow and the doctors don't have the strong blends out here in Lagos."