Dencia About to Damage Her Bentley?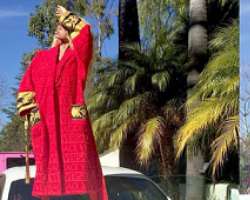 When there is money in the bank, one can just choose to wake up anytime he or she likes and do whatever seems suitable.
Singer cum entrepreneur, Dencia, is one person who does not care as she is currently enjoying life as a business woman.
Not relenting, the singer has continued to expand the ranges of her whitening cream and it has been getting tremendous demands while she continues to get bank alerts.
She recently shared photo of herself standing on the top of her Bentley in Versace robe just to show that life is very easy and simple for those who know how to work out their way.