PDP DIRECTS BRANCHES TO REGISTER ATIKU, ASSOCIATES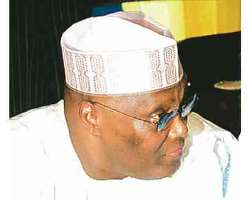 Atiku..
The National Working Committee of the Peoples Democratic Party on Wednesday directed all state branches of the party to re-register former vice-president, Atiku Abubakar, and all his supporters.
A member of the NWC, who is the National Vice-Chairman (North-East), Mr. Paul Wanpana, said the directive was to all state chapters and did not exclude Adamawa State, where there have been attempts by some party members to resist the return of the former vice-president.
Wanpana, who spoke with reporters after the meeting, said that he was mandated to inform the nation that Nigerians of 18 years and above had an unrestricted right to join the party, so long as they are willing to abide by its constitution, rules and regulations.
He said the Article 'Eight' on Page Eight of the party's amended constitution did not give the PDP or its branches the right to deny membership to anyone.
He said the party's executive members did not have the power to choose whom to accept or reject among those who left and are willing to return, neither can they exclude anyone from returning.
On the specific case of Atiku and his supporters, Wanpana advised the former vice-president should go to his ward to re-register, if he had not already done so.
He noted that registration at the ward level was the correct procedure because the national headquarters did not retain and issue party cards, in line with their constitution.
Atiku recently announced his return to the party.