Checkout Foluke Daramola's New Look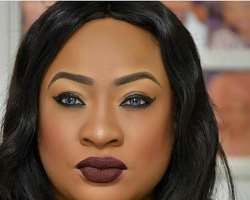 Nollywood actress, Foluke Daramola, has gotten her fans talking after she released some pictures of herself looking different from the actress she is known for.
The actress had her make-up well embellished to give her face a new look and this has gotten some of her fans talking with the points that the face beat is just too much and heavy on her.
While some say it's the make-up, some believe that she edited the photos herself with the use of a mobile application which gave her the new look. But whichever, everyone is entitled to their opinion.