Burna Boy Spends $18,000 to Put His Mouth in Order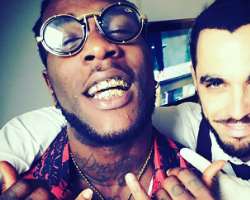 Nigerian singer, Burna Boy, is turning to something else as he tries to emulate the character of some foreign artistes either with his tattoos, machine gun and now golden teeth.
The singer has just got some set of new teeth just as he explains that they cost him the whooping sum of $18,000 to "put his mouth in order."
He wrote; "I got the best dentist in the world. This is what I smile like from now on. 18k golden smile." He is starting to look like American rapper, 2Chainz.