'8% RISE' IN VIOLENCE ON CHILDREN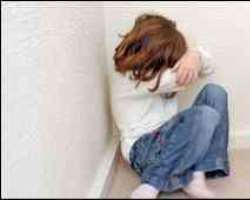 The rise in attacks on young children is not just a statistical blip, experts say
The number of young children injured in violent attacks has risen 8% in a year, according to a survey of accident and emergency units in England and Wales.
However, the statistics – collected by researchers at Cardiff University – suggest that overall levels of serious violence are continuing to fall.
According to the survey, 350,000 people were treated for injuries in 2009, 1,500 fewer than in the previous year.
But the number of under-11s who needed treatment was up to 2,800.
There was a fall in the number of victims of violence in the next age group, from 11-17.
The most common age bracket for victims remains 18-30 and 2009 saw another rise of 2.7% in violent attacks suffered by people of this age.
The research was carried out by a specialist team at the university who annually track the number of people treated in casualty departments after being attacked.
CHANGES IN VIOLENCE BY AGE GROUP
0 – 10: UP 7.5%
11- 17: DOWN 6%
18 – 30: UP 2.7%
Over 31: DOWN 6%
All ages: DOWN 0.4%
The team said that last year's 0.4% fall in the number of patients was slight, but it represented on ongoing trend over the past decade. Compared to 2001, there were 64,000 fewer victims who turned up to hospital last year.
Professor Jonathan Shepherd, head of the research at the university's Violence and Society Research Group, said the only rise recorded during the lifetime of the study had come in 2008.
While children under 10 years old accounted for less than 1% of all victims, the estimated rise was real, rather than just a statistical quirk.
Prof Shepherd said: "One explanation is it is more difficult for children to be taken into care by local authorities and that may mean more young children are staying in risky home situations than they were before, but that is just a proposal."
Teen violence
He said that an estimated 50,000 young people aged between 11 and 17 were treated following an attack – a 6% fall on the previous year.
"We're not precisely sure why that might be but there has certainly been a greater emphasis on dealing with youth violence," said Prof Shepherd. "It may well be that the increase in focus on that age group is part of the explanation."
Some hospitals have individually reported increases in serious violence, including doctors at the Royal London Hospital, a leading trauma centre which was not part of the study.
Separate figures released to Parliament in February showed an increase in the number of under-16s admitted to English hospitals for stab wounds between 1998 and 2008 – but then a fall last year.
Professor Shepherd said that, while the Cardiff study omitted some major hospitals, it had been structured to accurately uncover national trends across all NHS regions in England and Wales.
He said that its findings also reflected separate data collected by the massive British Crime Survey (BCS), the government's preferred measure of incidents.
"We set up this annual survey to bring clarity to violence trends in the face of often contradictory findings from police statistics and the BCS – but we find now that this information from accident and emergency departments matches the BCS really pretty closely," he said.