Igbos should forget about Biafra; it's dead: Obasanjo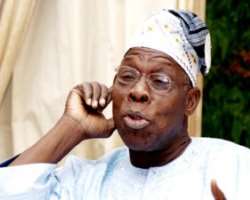 Former President Olusegun Obasanjo on Friday said Biafra is dead and that it is futile trying to resurrect it.
For Obasanjo, the current agitation for the resurrection of the Biafra secessionist agenda is not only hopeless but tantamount to treading a dangerous path..
Obasanjo spoke in Abuja while presenting a paper entitled: "Resurgent Biafra agitation: Born in error, ignorance and frustration" at a public discussion on Biafra organised by Nextier Advisory.
The former president,  who read from a  prepared speech but interjected  extempore at times, does not agree with the often-vaunted allegation of marginalisation by the South East,
commended  South-East leaders who,at a stakeholders' meeting on December 17, 2015 dismissed the Biafra agenda and called for improvement in their region's socio-economic situation.
He therefore counselled the leaders of the zone to ensure sanity among their youth.
"No right-thinking person who has experienced the horror of war will ever agitate for more war… If the elders abdicate their responsibility to the immaturity, inadequate experience, unrealistic idealism and the frustration of the young, it will no doubt lead to disaster.
"Biafra as a secession issue is dead and nobody should follow that way. It can again, only lead to disaster.
"The devil finds work for idle hands and fills empty minds; there is even some suspicion that the agitators embarked on the act in order   to extort   money from outsiders and to also extract financial support from the government.
"The commercialization and exploitation of Biafra agitation is obscene to the point of criminal fraudulence; or, how do you explain the issuance of Biafran passport that takes no one anywhere and for which unwary people are being charged exorbitant prices.
According to Obasanjo, Biafra agitation is "a hopeless and fruitless exercise on which nobody in seriousness should embark".
"Proffering solutions, the ex-President stated that the resurgent Biafra agitation should be treated as "a cry for attention, amelioration and improvement of socio-economic conditions" of South East youth and their counterparts in other parts.
"Above all, good governance at all levels is the key solution. The welfare and well-being of the citizenry with equity, justice and fairness must be the main pre-occupation of government at all levels", he added.
On alleged marginalisation of the Igbos,he said: "When I became an elected President, an Igbo man was made the minister of finance;an Igbo man was made the governor of Central Bank;an Igbo man was made the minister of transport.
"One day some people came to me and said that the civil war is not over yet and I asked why. They said since the end of the civil war no Igbo man has been the minister of Defence and explained to them that what matters is the service chiefs and we have had Igbos in that position. And I appointed Thompson Aguiyi- Ironsi  (as Minister of State for Defence).""
He said  that the country currently had enough problems and that "Nigeria cannot afford to go from Boko Haram insurgency to any other insurgency under any guise. And on no account should we wittingly or unwittingly allow this to happen again."
According to Obasanjo,  as much as the youth have rights to express their frustration, such rights do not include embarking on wanton and wicked acts of destruction of the property ordinary men and women in the markets to make the situation even worse for poor and helpless citizens.
"Bitterness, anger, destruction and wickedness can only worsen an already bad socio-economic situation. That will be unwise," he said.