Femi Kuti Explains Why He Chose Not to Marry Again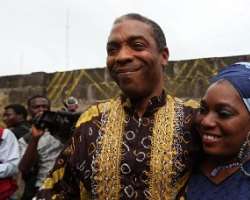 Afro-Beat singer, Femi Anikulapo Kuti, is staging a comeback on stage after some months of recovering from a hernia operation as he has been practicing with his sax to get back to form.
The singer was recently engaged with a question on why he and his sister Yeni Kuti, decided not to remarry but opted for having partners.
Femi explained that he does not have anything against anyone getting married as he and his sister were once married but decided not to give marriage a chance again.
According to Femi, "We have both been married. We have nothing against marriage. Just I choose not to get married again. Just my way."
He noted that anyone that wants to get married can do so irrespective of what people will say about the union since there is mutual understanding and sincerity between the lovers.