Genevieve Nnaji Meets With IMF DG, Christine Lagarde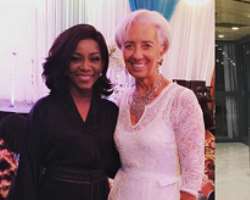 Nollywood actress, Genevieve Nnaji, planning a base in the federal capital territory may not be a bad idea though as it will give her the opportunity of meeting with top government dignitaries in no time.
The actress was recently spotted at a construction site in Abuja, with many having the feeling that she might be making plans to acquire a property or have an investment in the city.
As many kept pondering on what the actress who loves being private was up to, she then sent her fans clapping as she revealed some memorable pictures she shared with the visiting Director General of International Monitoring Fund (IMF) Christine Lagarde, in Abuja.
Already had her table reserved for her, the actress explained that she sees the opportunity given to her as an honour to be seated with such a strong woman.
In her words, "So honoured to have been in a room filled with strong, inspiring and impactful women. What a way to kick off the year."