Biafra Leader, Nnamdi kanu's Wife Delivers Baby Boy (Photo)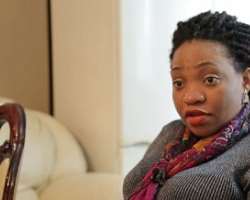 Wife of the leader of the Indigenous People of Biafra and the director of Radio Biafra Nnamdi Kanu, has been delivered of a baby boy.
According to reports, the birth of the baby boy was announced in a message on one of the facebook pages of Biafra.
The message reads, "Good morning great Biafrans with joy in our hearts and celebration of new arrival to IPOB family, our first lady the wife of our eminent leader Joshua Nnamdi Kanu has delivered a healthy baby boy, mother and child are in good health."
Meanwhile, the IPOB leader Kanu, has been in detention since October, 2015, facing charges of treason with two other people in relation to his agitation for the creation of the Republic of Biafra from the South East and neighbouring regions.