DisturbingAfrik feat. Linda Ikeji Olamide–Open Letter To Madam Kemi Olunloyo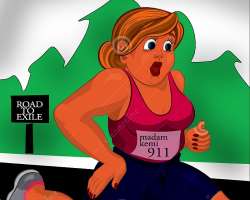 Greetings Madam Kemi,
It occurred to me that you are keenly more alive on social media than in real life, since the outcomes of your passover into the social world has never kept you in deep thoughts. The world is a small place yet the social media proves to be smaller.
You claim to be a professional journalist who finished with 3 first class results at the age of 22, from the Philadelphia College of Pharmacy and Science, Goucher College Maryland's School of Public Relations and the Broadcasting Institute of Maryland, all in the United States.
On the contrary, research has it that you are a 51-year old daughter to a former governor of the old Oyo state (Victor Omololu Olunloyo), a citizen of Nigeria and a refugee in Canada, deported from Canada in your late 40s, a single mother with four kids from four different fathers, once proposed to top ruling men in Nigeria, abused your own followers that criticized you, listed men that asked you for sex online, without naming the others that achieved the feat, while hoping to marry another man - Bayo Oyekan, your fairy-tale lover after falling in love a couple of times to no avail.
However, your only explanation is, Yoruba Boys are abusive, cheaters, gold diggers, the reason why you're yet to marry. You were never granted a permanent resident permit back in North America because of your serial criminal acts, denting our beloved country's name, in countries in liaison with the world's power - neglecting the jail term you served in Jamaica with an alias. The abusive manner of approach with your twisted utterances couldn't cure the wounds you created with them, but only reflected the 'Lady Morgana' character in the famous epic Tv series, Merlin - a woman who wanted to rule as queen in a naturalized habitation by coveting other men's power including that of her father's, to her own cause.
As it stands, you are the current uncalled for spokesman of the detained Biafra freedom fighter, Nnamdi Kanu, prior to your deportation from Canada - despite showing sheer hatred for the Igbos in the past as quoted "Biafra is DEAD and has been DEAD! O' was a war criminal, May he rot in HELL", when Late Mjr. Gen. Odumegwu Ojukwu passed away; creating a dead zone seen by you as a lifeline with your biased and impermeable dead talks.
I never knew you nor your shabby works until I searched online on my own works and found out you stepped on one purposely, by promoting your trademark with my already-trending work - 7 Needs of Upcoming Artistes; taking full credit as an award winning music journalist, precisely on 11th December 2015. Aside the funny reaction I made to this, you ignored and boosted the self-acclaimed 'Madam' rank; regardless you wrote to Facebook to delete pages and to Google to block bloggers' Google AdSense, previously on copyright issues. Notifying fellow bloggers after effectively blocking their Facebook pages and Google AdSense sounded like a tale of "the race won by a wounded horse". I couldn't worry but hoped to find my feet in my own field and strive for the best, as my article was only a free promo content.
I barely had my body fit from previous enjoyments in the new year's celebration, only to wake on a sunday morning to meet you again, online, but this time with an insensible proclaims against Olamide, accusing him of being a money ritualist and the cause of Da Grin's death. Unfortunately, you constructed a trap that had one of your legs as the bait. Olamide is not your father, the ritualist that used your mouth to confess, as you forcefully want your followers to believe. I already have enough players performing different quality displays in these few days of January and can't afford a loan spell, in the African entertainment sector, as you are yet to impress me with your hypocritical back-to-back articles.
Recently on an issue concerning the state of the nation, you pointed fingers at fellow celebrity blogger, Linda Ikeji, accusing her of being involved in a case of bribery, missing the facts and the figures, at the same time - neglecting allegations questioning the source of the funds used to acquire her new house.
I wonder how your cerebrum engages in a wrestling match with your medulla oblongata, having your cerebellum as the spectator. You brag, bluff, and at most times threaten citizens of your country at your own cost. Your modus operadi is that of a math-magician who gives correct/wrong answers with wrong workings. You claim to be a media person and can hardly communicate and connect positively, or even create a non-polluted atmosphere for your followers who you recharge with your terror time-bombs. I plead with you on their behalf to stop killing their vibes, as they feel threatened already.
True, you might have smelt some rotten fouls but you could only treat them with dead penalties - big lies can only be covered with bigger lies. I'm only convinced that you seek for power more than the current holders, PHCN. Terrorizing, proposing to, and writing against past, current government agencies and rulers of our land, including your father, still couldn't change your thoughts for a new ambition against your cultural practices that doesn't exist anywhere in Africa; before a battle with PHCN becomes your next priority.
Trust me, just like you also claimed your father told you, a fool at 50 is a living-dead, disregarding you predicted you would be killed once you return to Nigeria for your utterances against the government.
I wish I could convince you to beware of the shooter in your arms. As we all know, it takes only a thief to catch a thief. If you could possibly identify ritualists, then start up a spiritual gathering and have your followers enclosed in your underworld system; only then will you notice that you frequently utter hell. If you want Regina Askia's credit on the 'Most Wanted' or the Google AdSense and CPanel login of the blogger publishing this open letter, (in Don Jazzy's voice), you can come and collect it. Madam, believe me when I say, you can't rule here like Vic O.
Lastly, but not the least, I pray this open letter turns the end of your hypocrisy to evangelism, since I strongly recommend you stop buying problems you can't solve, seek wisdom and get scared of your grabbed knowledge, before you start loosing your mind and repeat warming up to go on an exile. The warning bell that rings in the morning is a joyful noise at the end of the day, as to be forewarned is to be forearmed.
Farewell.
@disturbingafrik©