Tears Of A Single Mother: I'm Sex Starved- Uche Iwuji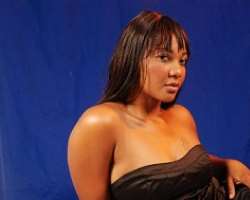 The rate at which single mothers are rising within the Nigerian entertainment circle is alarming. While some are enjoying life in their status, some others are not finding it easy at all.
For divorced Nollywood actress, Uche Iwuji, life hasn't been the same since her husband, Juwon Lawal dumped her on alleged grounds of infidelity and irreconcilable differences. Uche's marriage started like a dream and she climbed onto the rooftops to tell the world what a terrific time she was having – then the bubble bust. Soon after she disappeared from the scene, not to be heard from.
Now the star is gradually creeping back to the Showbiz world as a single mother of a cute baby boy, but she wants her fans and colleagues to know that she is a changed person and not same Uche Iwuji they were used to some years back.
"This is simply because my life has changed. I got married, separated, and has a child. I am re branding myself and that is why I have left the public scene. That doesn't really mean I have left showbiz but only took some time out for my family. I am fully back but not as the former Uche Iwuji, I am a new Uche Iwuji.
I have always been involved in one scandal or the other. That will change because Uche is now a mother who wants the best for her son," she told Vanguard in a recent interview.
When asked if she misses her ex-husband, the script interpreter answered affirmative and also added that since he left her, she has been starved of sex.
" I still respect and love my ex husband till date. In fact, I still pray for him. I'll accept him if he comes back. I will a million times. He is the best gift I have ever gotten.I blame the society for the cause of our break up. People were always saying rubbish about me. However, I advise intending celebrity couples to understand each other well and shun third party.
No other man is good for me, except my husband. I believe he will come back when he is ready.
I am sex starved for now but I don't really long for it. I have been without sex for a while now," she reassured.