Shoggy Tosh performing at London's Ultimate New Year's Eve Praise Party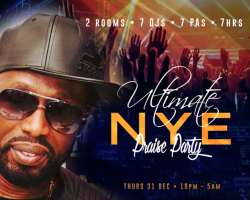 Shoggy Tosh is performing exclusively at London's 2015 Ultimate New Year's Eve Praise Party with dancers Lizzy & Lauradoing the #Pamoto thang with 7 Top Christian DJs on rotation all night & 7 Special guest performances.
Shoggy Tosh's Pamoto featuring Henrisoul has been breaking a number of records in only 10 weeks after being released. The track has over 160,000 downloads on My Not Just Ok, the music video directed by Femi Best Touch has over 30,000 views in 3 weeks, the song was #1 for 7 consecutive weeks on ITV Radio 92.3FM Benin's Top 10 Gospel Chart, #8 on the UK Christian Chart (November 2015), and has won 3 International awards at the 2015 London PGMA awards, London's Gathering of Africa's Best Awards, and the Akademia awards in Hollywood, USA.
The Ultimate NYE Praise Party is a DJ-led club night or as we like to call it 'Praise Party'. With 2 rooms of dancing with 7 top Christian DJs on rotation all night. Plus 7 special guest live performances. This promises to be the ULTIMATE New Year's Eve party.
DJ Kelechi, DJ Naadlox, Tito Carless, DJ Selenki, DJ Tomiwa + more will be providing a Christian alternative for those looking to party on New Years Eve.
Top performances on the night will be also from Dwayne Tryumf, Andrew Bello, Marky T, S.O., J Vessel, + more.
TICKETS: £10 Standard | More at the Door
Click on link to grab yours: http://bit.ly/NYEShoggyTosh
VENUE: The Light Club (Formerly LA FACE). 169-171 Fore Street Edmonton, London N18 2XA
DATE: THURS 31 DEC 2015
TIME: 2200 - 0500
Twitter Social Network Handles
@ShoggyTosh
@DJKelechi