Tv Personality Moet Abebe Is Having A Romantic Holiday With Her Boo In Seychelles & Wants You To Know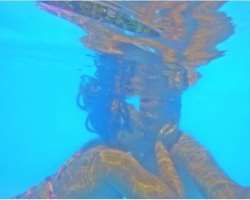 SAN FRANCISCO, December 30, (THEWILL) – Soundcity TV girl, Moet Abebe and her mysterious boo whom she once referred to as "Baby Daddy" and "M" are currently having the times of their lives it seems in Seychelles.
Moet who had informed fans on social media on Christmas day that she's spending the holiday's with the "man of her dreams" she thought she'll never find, has been keeping us updated with photos from their romantic getaway in Mahé, an island in Seychelles.
Water turtles, amazing views, and underwater kisses, see pictures from the couple's getaway below!
---

For those who've been wondering who "M" is, reports have it that his name is Christian Ojeme who goes by the stage name Monk Chief an upcoming recording artiste.

Scroll down for older pictures of the couple.
---

Photo credit: Instagram (@moetabebe)