Afro-Soul Sensation Aramide Unveils 'Odun Tuntun' Music Video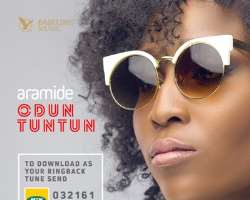 Nigerian Afro-Soul sensation Aramide wraps up 2015 with the video to her previously released single titled 'Odun Tuntun'. 'Odun Tuntun', which is a Yoruba phrase for New Year, sees Aramide singing about her wishes and prayers for the New Year, as she further showcases her vocal strength and versatility.
The simple, intimate and black and white visuals for 'Odun Tuntun' were shot on location in Lagos, Nigeria, and directed by Tosin Igho for Remote Pictures, to great effect. Enjoy the 'Odun Tuntun' video below and join the conversation on Twitter by sharing your hopes for 2016 using the hashtag #oduntuntun.
Watch Aramide's 'Odun Tuntun' Video On YouTube:

Download Aramide's 'Odun Tuntun' Here:
CONNECT WITH ARAMIDE
Instagram: http://www.instagram.com/aramidemusic
Twitter: http://www.twitter.com/AramideMusic
Website: http://www.aramidemusic.com