Reality: Eboh To Premiere New Movie On Nigerian Girl-Child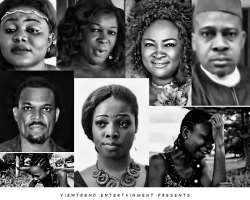 All is set for the premiere of Reality, the latest Nollywood movie to showcase the plight of the Nigerian girl-child produced by Dozie Eboh.
During the premiere which holds at the prestigious Greatwood Hotel, along Port Harcourt road Owerri, Imo State capital on Thursday December 31, 2015, a select group of individuals and institutions that have contributed towards the upliftment of the Nigerian girl-child would be bestowed with the 'Girl-child Defenders' awards.
Reality, shot in locations across Lagos and Imo States, is the story of a young girl called Chioma who left her family in a village in South East Nigeria to the city to live with an aunt who has been very helpful to the family after the death of their father.
With a heart full of joy and gratitude, Chioma saw this as an opportunity to make her family proud and to have a feel of the contemporary society, which she has heard so much about. At the back of her mind was an innate desire to be a model character to the society, which she hopes to achieve through the medical profession, as she intends to become a Medical Doctor.
This dream was, however, truncated as the city turned out to be her worst nightmare. She saw her dreams shatter right before her, as the dark side of life tore through her, leaving her with unforgettable scares.
Speaking on the movie, the producer, Eboh, said, "It is a movie to watch. It is an emotional movie that will leave your eyes so wet with teas and heart falling out for the child abuse syndrome happening in the society, especially for the girl child."
He listed those to be honoured with the prestigious 'Girl-child Defender' award to include the Speaker of the Imo state House of Assembly, Rt. Hon. Acho Ihim and the Honourable Member of the Federal House of Representatives, Hon. Chike Okafor.
Others are Marshal Nwachukwu, Chief Osinachi Nnedu (Onwa Isiokpo), the Chairman of the Actors Guild of Nigeria, Imo state chapter, Conac Umez, and Chief Chima Anyaso (Chairman La-Paris Hotels). Some clergies to be conferred the award include, Bishop Nnamdi Chikere, Rev. Prof. Udobata Onunwa, Victor Osuagwu , Chairman Actors Guild of Nigeria Lagos State chapter, Chief Nnadozie Udeh, Chairman Johnny Best Group, Late Sir Johnny Ufoduru and Chief Tobechukwu Nwaneri Chairman Tochil Global Ltd.
Also to be similarly awarded is the Journalists Alliance for the Prevention of Mother-To-Child Transmission of HIV (JAPIN), an initiative supported by UNICEF for safe motherhood, which begins with the girl child.
The premier cum award event is expected to kick-off with a red carpet by 1pm in Owerri, Imo state.