Arms deal convicts to forfeit property to FG – Buhari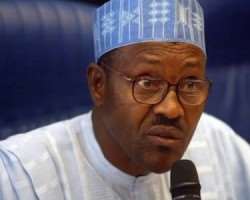 With heightened fears and agitations over the ability of Nigeria's economy to generate enough fund to implement the 2016 N6 trillion budget, president Buhari over the weekend assured that there is no cause for alarm. He said the federal government's drive to rid the economy of looters and blockage of the identifiable leakages will make enough fund available to implement the budget.
He promised that anybody convicted in the $2.1billion arms deal would forfeit his/her property to the Federal Government.President made these revelations on BBC Hausa service on the eve of Christmas.
According to him, Nigeria is not poor, but noted that the prob­lem had been leadership which did not take seriously the need to curb corruption.
In his own words: "Remember dur­ing the campaigns, we said Ni­geria is facing three things and nobody disputed that assertion. Firstly; there was widespread insecurity, war in the North- East, while the country's oil was being stolen at random in the South. Secondly, there is mas­sive unemployment, 62 per cent of the nation's population are youth from the age of 35 years downward; most of them are un­employed, including those who went to school and those who did not, that is a serious problem.
"Therefore, it has become necessary to restore peace and create employment. That is why we are returning to agriculture and mineral resources. Thirdly, bribery and corruption are basi­cally suffocating the country. If we don't kill these monsters, this country would go down.
"That is why those who stole monies meant for arms pro­curement and shared the fund among themselves are being arrested and are being shown documents, so that they would be asked to refund the money or face prosecution; we would use those documents to prove what they stole, collect all the assets acquired from the proceeds and then jail them," he said.
He regretted the huge debt his govern­ment inherited totaling N2.2trillion inclusive of both domestic and foreign debts.
"It is generally believed that a fish begins to rot from the head; once the head is rotten, the whole body is also rotten. We have tried to remove all the heads of the organisations, and most of the lieutenants have been changed.
"A lot is happening in this government that people do not appear to understand; many per­manent secretaries of ministries have been changed; we used to have 42 ministers, now we have 36 because the Constitution re­quires that each state of the fed­eration must have a minister; we used to have 42 ministries, now we have 24.
"Everybody knows Nigeria is not a poor country, we are rich, and we have human resources, the problem had been that lead­ership did not take seriously, curbing corrupt tendencies," he said.
-Emmanuel Ikechukwu