I Had an Encounter with God in The Forest…Prince Eke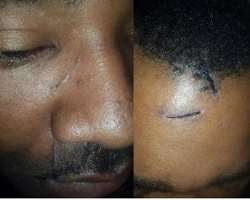 Nollywood actor, Prince Eke, is still jubilation and thanking God for sparing his life to be able to celebrate his wedding anniversary with his wife and kids after he was kidnapped some weeks ago.
The actor while narrating his ordeal in the hands of his abductors stated that the whole scenario has drawn him closer to God because he had an encounter with him.
In his word, "I was very scared but I had faith in God that I would not die in the forest. While I was in that forest, I had an encounter with God. This encounter manifested the love God has for me. It is my duty to serve Him in truth and in spirit all the rest of my life," Eke said.
Following the viral speculations from some quarters that the actor may have planned his own kidnap, he explained that though actor are ready to do anything for publicity but he would not go that far of using kidnap to gain attention.
"I do not blame people that said my kidnap was a publicity stunt. Everyone is entitled to their own opinion. I do not wish anyone to go through what I went through. We celebrities have many ways of being relevant but I cannot go through such length just to be in the news. Those that say that my kidnap was stage-managed, I leave them to their opinion. I thank my wife and my brothers and sister for their tremendous help that got me out," he said.