I can't use my manhood for rituals, I've tasted what it is used for and it is very sweet –Ayefele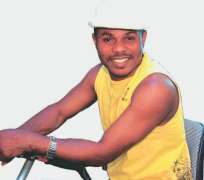 False tales
I don't know why I am trailed by scandals. But I think it is the handiwork of my enemies. I don't know where people get their stories from. I was once a journalist. I think whenever you want to write a story, the normal thing is for you to balance it before going to press. If you have a story, try and confirm it first. You just don't cook up a story. Anybody who suffered to build an image, it would be unfair for you to wake up one morning and try to damage that image. People should do more than junk job. All the stories around me are false, and it is not right.
I did not use to bother about these stories, but I think I have to do something about them now. It is becoming too much. I think because I have not been doing anything, some people now imagine they can fool other people and fabricate false stories about me. I have to do something about it.
The spinal cord and secret cult controversy
It is not true that I used my spinal cord for juju or that it is the reason for my success. It is not true. I have never had anything to do with the woman behind this false story. I have never met her before. The most annoying one is what one soft sell magazine did. They used my picture on their cover. It is wrong. If they lift a story from any newspaper, they should find out how they got their story and balance the story. Nobody came to me to ask me my own side of the story, and they went to press.
I learnt that the woman said I belonged to a cult. I have never met her. I heard she came out with a video tape. I am yet to see that video. People are just telling me about it. I am looking for the video tape. I want to sit down, watch and listen to what she said about me. Even if the woman is confessing, I agree. But how old is this woman? I heard she is in her early 40s. How old is Baba Abiara? How old is Baba Oyedepo or even Sunny Ade? These people have been prominent long ago and some of them even before the woman was born. How can she now say she gave these people powers? You will discover that the woman is suffering from poverty and she wants cheap popularity. We all heard about Okija. Pictures were shown to us. This woman should take people to her occult ground so that people will get the real facts. She is just saying fake things about everybody.
Why I am reacting
My picture was used prominently on the front page of a soft sell magazine. If they had used the pictures of all the people the woman mentioned, I wouldn't have said anything. But the way the soft sell magazine presented it, it looked as if the woman mentioned only Yinka Ayefele, and it is not supposed to be so. This woman has been saying jargon all this while and nobody listened to her. But you can't, because you want to sell your paper, use my picture on your front page. It is never done. I suffered for my image. I am going to take everyone that is involved in this matter to court. I have informed my lawyers. It is not fair to ruin and damage my reputation like this.
I have tried my best to get in touch with the woman who started all this. I have asked people to help me look for her. I want to sit down one on one with her and interact with her. I need to ask her where we met and where she took me to. I need to know the other members of the so-called cult. I want to ask her where she came from and what her mission is. I have a lot of questions to ask her and that is why I want to see her. I have not been able to see her.
Rumours of faked physical disability
So they are spreading a rumour that I am pretending not to be able to walk? If the rumour comes up again, I will be glad. That means the people are reminding God about my case. No one would want to sit down at a place for three hours. There is no way you can pretend for three hours. You will unconsciously stand up. If I should stand up unconsciously, I would be the happiest man on earth. You cannot pretend about this. It is a spinal cord injury. I pray you don't experience this. People who are spreading this rumour should go to the hospital and find out about spinal cord injuries. I am lucky to be using the upper part of my body. If it involves the hand and the legs, then you will know what I am talking about. I wouldn't have been able to raise my hand. The spinal chord is the most dangerous part of the body. You can go and find out. Unless they are saying Yinka Ayefele didn't have spinal cord injury. But if it is the injury I had, it entails a lot of things. I am even lucky. My consultant said it is one out of a hundred that can move about, the way I do. I possibly can walk again, but it is a gradual process. I still undergo physiotherapy. I fixed callipers on the legs and I use crutches. I hop and try to lift the legs gradually. The legs are very weak. We are really working on them. Since they said it is gradual healing, I will take it one step at a time. I have seen a lot of improvement.
Manhood-for-money ritual controversy
Well, only my doctor, my wife and I that can say whether my manhood is working or not. I can bet you, if you ask my wife, she will be in the best position to give you the accurate answer. God is able. It is very good that we are clarifying these things. Because you want to make money? Between manhood and a name, which one is more important? I will never suffer myself to make a name. I have tasted what manhood is used for and it is very sweet. I cannot imagine using it for rituals. I cannot imagine using any part of my body for rituals. I don't know how a man would go through pains and exchange part of his body so that he can make a name. I will never do that. Come to think of it, I was asking somebody the other day if there is any juju for money. Is it real? I have not seen anybody using it. When I see somebody doing that, then I will believe that such things are real. I don't believe in it anyway.
Before the accident that changed my life
I always say my name is not an overnight issue. I was in the electronic media for almost six years before I had an accident. I have colleagues in this industry. I have male and female friends in the industry. I was in Radio Nigeria for almost six years and I think I was making my name there locally. But music travels farther than radio, and that might have been the opportunity I had. Besides, when I had the accident, I had the support of virtually all the media houses. They made so much noise to the public. They tried raising funds for me for further treatment. Those were the things I gained from the media. Media houses raised Yinka Ayefele. The power of media is effective. If you look at any artiste that is enjoying any air time, the artiste will definitely come up.
The accident: a blessing
The accident is really a blessing. If it didn't happen, I would still have been with the radio station dealing with my programme. I might have bought air time in other media houses. I might have become an independent producer. I would have sourced for adverts for my programme. Not everybody will listen to my programme as everybody is listening to my music now. I think the accident is a blessing. That is why people think I stage managed it, since it has become a blessing for me now. So it means that anybody who wants money should go and have an accident. It is not easy. I passed through pains 24 hours. You can ask anybody who has had this kind of injury. It is a pathetic thing. There is no medicine for it. It is not like headache. It is a persistent thing and the pains are so severe.
Yet, if I hadn't had this accident, I might have got to this level. I have been in broadcasting. They knew me as Ayefele on radio. If not for the accident, the media stations would not have supported me. I got to know a lot of my colleagues in the other media houses after the accident. I think I enjoyed the power of the media after the accident. People who didn't know me got to know me after the accident.
Why I sing gospel
Music is my own way of preaching the gospel. Initially, I did the first album to appreciate people and at the same time, to give glory to God for sparing my life. There is no way you listen to the danceable part of the music that you will not be forced to listen to the message or the gospel, as well. I play gospel music. Everybody knows that I want to be on my feet again. I was a footballer. I was a member of the team that once played for the FRCN, Ibadan national station. I want God to confirm his promise about me getting up again to walk.
Kola Olawuyi
I am hearing that I took Kola Olawuyi's glory for the first time. How could I have taken Kola Olawuyi's glory? Can I take your own glory? The sky is sufficient for everybody to fly. How possible is it for you to take somebody's glory? It is a spiritual thing. This is Yinka Ayefele's glory and nobody can take it from me. My own is meant for me and your glory is meant for you. There is no way I can use Kola Olawuyi's glory. How is that possible? It is just not possible.
Kola's wife
I am in contact with his wife. She was even the first person to call me when this junk magazine came out with their story and I told her I hadn't seen the paper. I am very close to her and their children.
My wife
If she had wanted to leave me, I think she would have done it years ago. I am getting better now. She cannot leave me now. She stood by me when it was really bad. How can she now leave when things are getting better? There is no reason for it. She was there all along when things were very bad.
My projects
I have a lot of projects. But the major one is our radio station which may take off any time soon. It is called Fresh FM. We hope to take off before the year runs out. We are running an NGO that takes care of spinal cord injury patients. There is another NGO that deals with unlocking human potential. Those are the major projects we are working on.
Female fans
I have a lot of female fans who call me and tell me they want me. But I try to be diplomatic about it. They propose certain things to me and tell me they can do anything for me. But I am not an indecent person. I am not ready for any of that at all.
WWW.NIGERIAFILMS.COM
Story by nollywoodgists.com