Politics Can't Exist Without The Media – Tinubu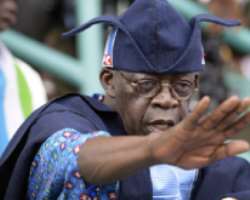 BEVERLY HILLS, December 23, (THEWILL) – Former Governor of Lagos state and National Leader of the All Progressives Congress, Asiwaju Bola Ahmed Tinubu has averred that any politician who ignores the media is living in an entirely different world, stressing there can be no politics without the media.
The media mogul, who spoke in his Lagos office while being given a letter by management staff of the Sun newspaper notifying him of his choice as The Sun Man of the Year, described himself as "a well-informed individual about the media."
He then declared that "There could be no politics without the media. Any politician who does not pay attention to the media has left human for the animal world."
Tinubu, while recounting how he led progressives and other well-meaning Nigerians in their collective quest to get the country to its present state, said: "We attempted it in 2007, then 2011. We had democratic movements trying to pull it through. With perseverance and determination, not giving up, we got to where we are.
"The nation needs political competitiveness. Today, we are facing challenges. These challenges cannot be surmounted for the country to move from potential to reality without the media," he asserted.
Regretting that "Nigeria has lost many things as a result of poor leadership", Tinubu insisted that " There could be no African renaissance without good leadership. A full democratisation of Nigeria, under the rule of law, principle of federalism and commitment to the welfare of the people are extremely important."