Tonto Dikeh Heartfelt Prayers For Fans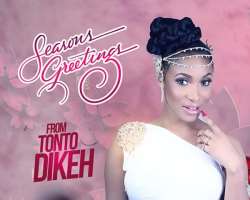 Sultry actress, Tonto Dikeh Churchill started preparations for Christmas since the beginning of the month and also made donations to the less privileged through her foundation 'Tonto Dikeh Foundation.'
Tonto, who recently got a surprise gift, a 2016 Land Cruiser Prado SUV for Christmas from her husband few days ago, prayed for her fans who may be undergoing tough times now. She gave them words of encouragement as they celebrate Christmas and prepare for the New Year.
"In the spirit of Christmas and love in the air, I pray specifically for the broken hearted, for those who have lost loved ones, going through a painful divorce, or going through a heart break from the loss of a child, husband, friend, business, family, sickness or even lack.
"May this beautiful season not bring you sorrow but strength, may the thoughts of suicide be far away from you and may the thought of loneliness be filled with the love of God.
"It is easy to fall into depression this season because of the constant reminder that Christmas season is best spent with our loved ones and the sight of others happiness can be a painful reminder of what you might have lost.
"My sister, my brother you are not alone, you are the reason for the season, you are the reason God has sent his only begotten son to come to earth and fill that void in your heart.
"Be strong! Let God come in, mend those wounds and be your plus one and provider. I wish you a beautiful holiday my darlings. It is well and will always be in Jesus Name. Amen."