Pregnant Jodie Enjoys Timeout with Hubby (Photos)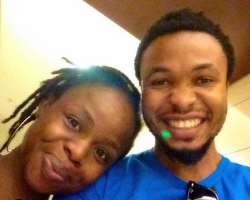 Newly wedded singer, Jodi and hubby, David Nnaji, have been on the quiet note for a while now as they enjoy nice time out hanging out together.
The two had kept the relationship on a very secret note that the media never detected until the news of their wedding broke out in October.
Pregnant Jodie since getting married has been very busy with family affairs and having fun with her husband and she awaits the cry of her baby early in 2015.