There Was Nigerian Philanthropist Ugorji Eke Before CNN Ted Turner And American Bill Gates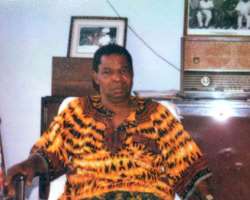 When CNN founder turned Philanthropist Ted Turner donated the mind-boggling one billion dollars to the United Nations in 1997, he advertently rekindled mega-billion dollar almsgiving race. Such humanitarian quest persuaded other wealthy individuals to follow his lead.
There are a lot of people who are equally rich but have not considered venturing into philanthropist territory. Turner said, "There's a lot of people who are awash in money they don't know what to do with. It doesn't do you any good if you don't know what to do with it. I have learned -- the more good that I did, the more money comes in. You have to learn to give. You're not born as a giver. You're born selfish.'' Imagine: Turner's $1 billion gift spurred Bill Gates, Warren Buffett, FaceBook founder Mark Zuckerberg, and others to pledge over $150 billion in donations. Philanthropist is a worthy title to earn. Give to be good, not to be rewarded. As any true giver knows "it's better to give than to receive".
However, before this group of America benefactors, there was one Nigerian Chief Ugorji Eke. Although he is not as worldly known as the American counterparts, he labored to foster philanthropy in Nigeria. Sadly, and for some reason, there's hardly any evidence of his generosity documented anywhere, even on the Internet today. His real name is not well-known in Aba today; what does that say about us? Could this be the fate of similar Nigerian philanthropic pioneers?
Chief Ugorji Eke was extraordinary human being who was larger than life. He was a true legend in his own rights. He was admired by all, especially those who grew up in Aba, Abia State from 1955 to 1980. If he had opportune to come from a country that valued human decency, the movies would have been made about his life, theses written, and monuments erected in his honor. Such accolade goes to heroes like him. His sermons would be preached high pulpit; not only to showcase his legacy, but to encourage others to emulate accordingly. In the light of his devotion to humanity, he was our Father Theresa or Padre Pio. Chief Ugorji Eke had the heart of God and gold! How does Nigeria pass his heritage to future generations?
You and I need to exult Chief Ugorji Eke by researching and documenting his life, and to memorize him. He was fondly known as "O me furu onye o durum" (helper of last resort) for his generosity. This article validates the beliefs of my friends Ndubueze Okonkwo and Ayodele Anise. These two givers believe that Nigeria is endowed with adequate resources to achieve greatness. We just need to harness our positive talents and eschew corruption. If all Nigerians practiced the teachings of Chief Ugorji Eke, Nigeria would become a better nation.
Citing Wikipedia, "Philanthropy etymologically means "love of humanity". Chief Ugorji Eke was a lover of humanity! Just like Ted Turner did two decades ago, he inspired Nigerians to be kind to one another. Instead of waiting for the military, churches, politicians, educated folks, or other wealthy individuals to act first, he 'showed the light'.
Here are some of his good deeds: Chief Ugorji Eke was instrumental in the establishment of the Umunnato Joint Hospital. More on this later. He donated his lorries to evacuate some Igbos who could not readily pay their way back to the Eastern Region (Biafra) at the start of the brutal Civil War. When Aba was in dire strait after that War, he purchased buses to provide low-fare transportation to help the people to get back on their proverbial feet.
Delineating from my childhood stories of him, he derived a lot of joy in helping the downtrodden. From the second story verandah of his Etche Road, Aba home, he had a bird's eye view of the two roads below. He would see a woman carrying her baby on the back (head bubbling and all) and her entire business on her head trekking to the market on a hot and humid day. Chief Ugorji Eke would send someone to call the woman and proceed to give her more money than her wares worth and tell her to go back home and get that beautiful baby out of the sun. He would see a truck pusher strolling the streets of Aba looking for fare and he would give the person money to start a better business. He pleaded with armed robbers to stop the violence against fellow Nigerians who were struggling to feed their families. His son Ezinwa is too humble to provide me more materials for this article. I respect his humility because that is a characteristic of philanthropic families.
Although I am convinced my examples pale in comparison with numerous first-hand accounts that confirms the good deeds of Chief Ugorji Eke while he was living, I am delighted to add my tiny voice to (what should become) the immense chorus of praise for this true legend from our heritage. He believed when we join hands, this will ignite a measured interest to enkindle a great flame that illuminates dark world of selfishness, avarice, and not caring for the least among us. Everyone can partake in this worthy cause because there should be Chief Ugorji Eke in everyone.
The thought of writing this article has been percolating in my mind for a while. I was honored to mention Chief Ugorji Eke's name in a previous article. When asked if any of his siblings is following their father's foot step, Ezinwa was quick to retort that "those shoes are too big" to fill. No doubt, "O me furu onye o durum" left large shoes. However, it's up to society to propel his legacy, not his family's job. You and I can collectively enlist in Chief Ugorji Eke's philanthropic army where empowerment is waged instead of war. Please join in!
History books are full of names who contributed to the Nigeria's current sad state of affairs. Why not celebrate the few who truly gave of themselves to better society? Philanthropy should be taught from infancy.
Chief Ugorji Eke was a major contributor to the Umunnato Joint Hospital fund. This was an ambitious community project that served the tri-village of Alayi, Igbere, and Item. Hence the name Umu nna Ato or three siblings. Although Abia State Government has ran the hospital to the ground, in its heyday the hospital saved many lives, including mine during the Civil War.
Let me recant this brief story. It was during the hospital fundraising event that Chief Ugorji Eke and my father had a slight discord. This was before my time but I grew up hearing about the incident. The story goes that in his exuberance to galvanize the people to donate money for the project, Chief Ugorji Eke used words that implied anyone who did not pledge large sum was not being a "man" enough. My father (who was a successful man in his own right and a defender of the slighted) took offense to that tone and defended the manhood of those who lacked the wherewithal to measure up. Both men meant well. Others retold the story but my father never said a word about it. Instead he spoke highly of Chief Ugorji Eke.
While the Chief was alive, his detractors accused him of being a publicity hound who only did his good deeds in the open to grow his legend. Probably, there were relatives who did not think he did enough for them and reminded him that "charity begins at home". Looking back, Chief Ugorji Eke was neither a publicity seeker nor someone who neglected his relatives. He was a true philanthropist who did his best to make the world a better place. Some of the ways he achieved that was to expose others to the virtues of philanthropy. He was not showing off.
He was not the richest man in Aba then but he was beloved because he used his wealth to uplift the psyche of the underprivileged people. He provided hope when only hopelessness abounded. He lived among the people when we could afford to reside in an estate in GRA. With all his often publicized generosity, it was a miracle he was not accosted by the rampant gangs of armed robbers. Goes to show that in God we take refuge. Also, that even the robbers have a heart.
The other wealthy folks who hoarded their money and passed them to their offspring were not bad people. However, inherited wealth often contribute to the delinquency of the children. Today, their children are not better off than Ugorji Eke's.
Just like Rockefeller deemed his wisest investment the tiny fraction he donated to establish The University of Chicago in 1891. The good done for other people often becomes one's most rewarding investment and lasting legacy. They can be small amounts. The Grameen Bank Program was started in 1976 with $27 by Muhammad Yunus, a teacher in Bangladesh. Yet by the end of 2008, the bank had loaned a whopping USD 7.6 billion to the poor. It has uplifted millions of people out of abject poverty. Read "Banker to the Poor". Anyone can echo his micro finance program and alleviate poverty in one's native village.
We need to emulate the likes of the late Chief O.O. Okoronkwo of Alayi who (without medical background) single-handedly sponsored annual medical missions for Alayi indigents for 30 straight years. Rest in peace (Dalgo) Chief J.C. Oguchi of Nnewi who recently died! He was a remarkable man who, without fanfare, used his wealth to help others...and he did it with the wisdom of Solomon and humility of Job.
"Service to humanity does not have to be monetary but about loving others. A cup of water can quench thirst", as Dr. Fidelis N. Okonkwo said. It can be a piece of advice or a meal for the hungry. Or use your position in society to promote sensible ceremonies for those with limited resources. Poor women and children suffer immensely from the economic fallout from today's elaborate funerals. Are you a politician, be like Dr. Akanu Ibiam. Are you a doctor, nurse, or physical therapist? Use your skills to help others to adopt healthy and preventive habits. Call an obese friend privately and say, please take better care of yourself, not 'you're looking great'. It does not have to be from top to bottom; it can be from bottom to top or lateral. Everyone has the capacity to help someone else. As Ted Turner said, we all can learn to give.
Credit to my friend Prof. Azubike Okpalaeze for his contributions to this article.
What's your purpose on earth? As John Bunyon said, "You have not lived until you have done something [good] for someone who can never repay you".
Finally, Chief Ugorji Eke would want you to help others out of the warmth of your heart because "if you are helping someone and expecting something in return, you are doing business, not kindness"!
Happy Holidays!
Chuks UC Ukaoma and his family reside in Texas, U.S.A. He's a veteran of New Homes Marketing and Property Management. Email: [email protected]
Disclaimer:

"The views/contents expressed in this article are the sole responsibility of the author(s) and do not necessarily reflect those of The Nigerian Voice. The Nigerian Voice will not be responsible or liable for any inaccurate or incorrect statements contained in this article."
Articles by Chuks uc Ukaoma