Jega In Ghana, Urges Peaceful Elections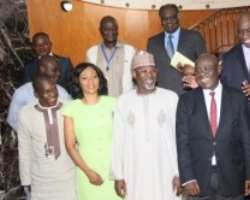 BEVERLY HILLS, December 17, (THEWILL) – Former Chairman of the Independent National Electoral Commission (INEC), Professor Attahiru Jega, has said that elections in African countries need not generate conflicts as they often do; rather, with the right mindset by all actors, elections should help to unify the people.
According to him, African countries must work together to promote peace and stability on the continent, and each country should work at reforming its electoral system towards deepening democracy and ensuring that the vote of the people truly count.
"Elections do not have to create conflicts, and our countries need not be so conflict-prone because of elections. Democracy should promote good governance, and elections, which are essential to democracy, should help to unify our people," he said.
Professor Jega spoke in Ghana during a five-day visit to the country at the instance of the Institute of Economic Affairs (IEA) Ghana, which invited him to come and share Nigeria's experience of the 2015 general election with Ghanaian stakeholders as the country prepares for its presidential and parliamentary elections in 2016. The visit ends on Friday.
IEA Ghana, a frontline think-tank, invited the former INEC Chairman to the country as part of its 25th anniversary celebrations. During the visit, Professor Jega gave two public lectures – one in the national capital, Accra, and another in the capital of Ashanti Region, Kumasi – and he met with key stakeholders, including presiding officers of the Ghanaian Parliament led by the Speaker, Hon. Edward Doe Adjaho; and the Chief Justice, Lady Justice Georgina Theodora Wood.
He also met with Ghanaian political party leaders and candidates, traditional rulers and religious leaders, the civil society as well as international development partners and donors, among others.
At the various points of encounter with Professor Jega, Ghanaians were full of praise for Nigeria's 2015 general election and celebrated the former INEC Chairman for leading the electoral commission to conduct the applauded poll. Enthusiastic crowd attended the public lectures, which Professor Jega used to rally his hosts for cooperation and peaceful conduct as they approach the forthcoming general election. He reminded them that Nigeria and Ghana are noted for healthy sub-regional rivalry, hence they should put all hands on board to ensure that they surpass Nigeria's celebrated 2015 record in their impending elections – not just for the good of their country, but for the good and stability of the entire African continent.
The former INEC Chairman, in his public lectures, shared the experiences, successes and challenges of Nigeria's electoral system leading to the 2015 general election. He drew lessons for Africa, saying: "There is no doubt that Africa is making tremendous progress with elections. Clearly, the number of Africans living in countries that routinely conduct elections has grown tremendously since the 1990s. We are glad that Nigeria is now being counted among such countries.
"The 2015 Nigerian general election may have set a new standard for democracy across the African continent. All countries with elections slated for next year, like Ghana, are now challenged to make theirs at least as free, fair and peaceful as Nigeria's. Specifically for Ghana and Ghanaians, we now pose you a big challenge: make your next elections better than ours! Learn from our mistakes and don't repeat them. See if you can adapt some of our innovative reform measures and do them better. I must say that we ourselves learnt a lot and adapted good things from the National Electoral Commission (NEC) of Ghana. We can, and should learn from one another as we consolidate and deepen our democracy."