Actress, Sugar Chika Asoegwu is Engaged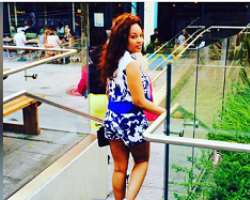 Classy Nollywood actress, Sugar Chika Asoegwu popularly known as Tricia got a surprise gift from her man as they celebrate their one-year courtship.
Sugar shared the picture of the surprise she got from the secret man and she captioned; "It was our one year anniversary, he gave me a gift, an iPhone 6S plus, hidden inside it was a sparkling gold and diamond engagement ring twinkling at me. I screamed until I lost my voice, ran to the sitting room and back. My reaction was just silly, I love this man."
The actress who has been off the screen for sometime now is on a break to pursue her Masters degree in the United Kingdom.