ATTENTION!! It's Comedy Splash With Wale Baba!..Let's GO!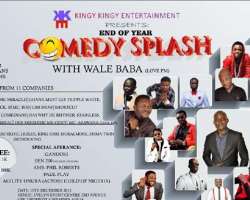 It's the D' Day of the most hilarious Comedy show of the year in Abuja.
" ITS COMEDY SPLASH
WITH WALEBABA"
Where would you rather be?
Come laugh away your 2015 stress and laugh into 2016 as the comedy line-up is massive
~~~~~~~~~~~ Gandoki, Amb. Wahala, Mc Miracle, Ghana must Go, stainless, tripple white, Dr Bonny hills, Mc Sam, Cri Snow, Sam & Song, ChuksDGeneral, shortcut, Nick B, Mc Asawana, Dee minister, God's pikin, Mc Bob, Mr Odey
((((((WHILE)))))))~~~Kingsley Ike, Asu Ekiye, Ailly Omo-Jehova, Haywhy D Rhymer, Sloflo, Victor Velmo, Lezlee, king josh, moral more, Gideon kings, Rude-Bone will musically Musicalize your day.
Date: 11th December, 2015
Venue : Evelyn Event centre, Gwarinpa, Abuja.
Time: 4:00pm
Gate fees: N1000, VIP 2000, table of 5= 100,000
For sponsorship and info
08036331030.
BBM: 2B9E466E
Supported by: :D love fm, Capstone travels & tour, Got, success studios, Lekki gardens, House of Productions, ({}) Ofofo entertainment, Studio 99plus, Montage Africa, Apari Graphics, TBS studios, =D 9ja School Gist :-V