VOTING OPEN 2ND SCREEN NATION DIGITAL-iS MEDIA AWARDS 2015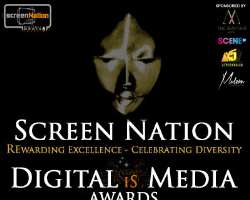 #DigitaliSMediaAwards #DigitaliS
The 2ND SCREEN NATION DIGITAL-iS MEDIA AWARDS sponsored by The May Fair Hotel (@TheMayFairHotel) and supported by returning partners Scene TV (@Scene_TV) and AfricaX5 (@AfricaX5) and new Communications Partner for 2015 Modern Communications (@ModernCommsUK), returns again to showcase the best online work made by black British and international digital media creatives working across short film, web series, music promos, blogs, magazines, social networks and more.
This now prestigious event will take place on Sunday 20th December at The May Fair Hotel, London W1 and will be hosted gorgeous award winning Liverpudlian actress/presenter Adi Alfa (@MIss_Alfa86) and fast rising comic urban online star Reuben Christian (@ReubenChristian)
The Ceremony will be streamed live on Google+ Hangout, uniquely the only awards show that does this in the world. Highlights of the event will be broadcast on ABN TV (Sky 235) at a later date. Emerging TV producer Delia C. Williams (Graham Norton Show etc) is the Event Director with George UK Washington as Design Partner, Scene TV and AfricaX5 returning as exclusive Online Media Partner and Media Production Partner respectively .
The Awards as always highlights the new born media maker who can wake up, write, cast, crew and fund a project online, record and edit with a mobile device, launch a YouTube channel to distribute the content, design a blog to publicise their work and find an audience via any one of a number of social networks such as Twitter, Facebook, Instagram, Snapchat, Periscope and more.
With the constant debate about the lack of diversity across mainstream media channels in the UK and across the world, the Screen Nation Digital-iS Awards is a great way to give new voices a platform and recognise the wealth of talent succeeding in the digital arena.The Digital iS Media Awards celebrates excellence by black British professionals and the public working to produce innovative, interactive video content, apps, social media campaigns, games and web channels. It also champions outstanding web shows from channels that achieve scale, volume and noise, no matter what their budgets. Please see the categories and nominations below:
NOMINEES
Favourite Web Series Actor:
● DANIEL RUSTEAU - WEDDING DATES
● EMMANUEL OGUNJINMI - LIFE OF HERS
● MICHAEL SALAMI - JUST A COUPLE, ETC
● STEPHEN BOYCE - HOW DID WE GET HERE?
● TAPIWA MADOVI - A DAY IN THE LIFE OF DADDY
● TYSON DOUGLAS - LIFE OF HERS
Mention:
● ANDREW ONWUBOLU - DEAR JESUS
● COURTNEY WINSTON - ALEXIS SHOW
● REV KEN WALLIS - ADAM & EVE
Favourite Web Series Actress:
● CHINWE A. NWOKOLO - WEDDING DATES
● FRIEDA THIEL - JUST A COUPLE
● HELEN ALUKO - LIFE OF HERS
● KAMARA BACCHUS - LIFE OF HERS/HOW DID WE GET HERE?
● LINDA ADEY - DEAR JESUS
● MARIA PAZOUROS - LIFE OF HERS
● ROCHELLE ROSE - A DAY IN THE LIFE OF DADDY
● SAMANTHA EARLE - THE ALEXIS SHOW/DEAR JESUS
Mention:
● ALYSHA PRICE - ADAM & EVE
● JACQUELINE KIRWAN - LIFE OF HERS
● NIKKI FAGBEMI - LIFE OF HERS
● SHAMAILAH PASCALL - A DAY IN THE LIFE OF DADDY
Favourite Web Series Ensemble:
● A DAY IN THE LIFE OF DADDY - BWNG
● ADAM & EVE - VISIONS INCORPORATED
● DEAR JESUS - WONDER LONDON FILMS
● LIFE OF HERS - CARDY FILMS
● THE ALEXIS SHOW - WONDERLONDON
● WEDDING DATES - DANIEL RUSTEAU/BWNG
Favourite Web Series:
● A DAY IN THE LIFE OF DADDY, S1 - BWNG
● DEAR JESUS, S3 - DANIELLE A SCOTT-HAUGHTON/WONDER LONDON FILMS
● HOW DID WE GET HERE, S1 - CARDY FILMS/BWNG
● JUST A COUPLE, S1 - SEBASTIAN THIEL/UPSHOT ENTERTAINMENT
● LIFE OF HERS, S1 - OLA MASHA/OLAN COLLARDY/SAMANTHA CHIOMA/CARDY FILMS
● WEDDING DATES, S1 - DANIEL RUSTEAU
Mention:
● ADAM & EVE - VISIONS INCORPORATED
● ADOTS APPRENTICE - UPSHOT ENTERTAINMENT
● BLACK & BROWN - HUMZA PRODUCTIONS
Favourite Short Film (to be judged by attendees on the day):
● BLIGHTY: BFF - DANIEL RUSTEAU
● FHPC (FAIR HONEST POSITIVE CREATIVE) - MARK ONE/GEORGE THE POET
● HIDDEN - QUASON MATTHEWS
● OYA: RISE OF THE ORISHAS - NOSA IGBINEDION
● PREY - SUNNY KING
● SOMETHING SENTIMENTAL - OLAN COLLARDY/OLA MASHA
Mention:
● PATIENT 418
Favourite Online Presenter:
● AARON ROACH BRIDGEMAN - MUSICALIZE, SBTV, VARIOUS
● CLAIRE CLOTTEY - MEDIA SPOTLIGHT UK, BANG FM, VARIOUS
● JACQUELINE SHEPHERD - VARIOUS
● REMEL LONDON - THE SHOW ROOM, LINK UP TV, VARIOUS
● RIA HEBDEN - VARIOUS
● VANESSA SANYAUKE - GIRLS TALK LONDON
Mention:
● JENNI STEELE - various
● REUBEN CHRISTIAN - various
Favourite Music Promo (produced by Luti Media)
● DAPPY - BEAUTIFUL ME
● FUSE ODG FT. ANGEL - TINA
● LIAM BAILEY FT. ASAP FERG - VILLAIN
● MELISSA STEELE FT WRETCH 32 - YOU LOVE ME?
● SAM FELDT FT. KIMBERLY ANNE - SHOW ME LOVE
● RITA ORA - POISON
Favourite Youth Entertainment/Lifestyle Site/Mag
● CERTIFIED UK
● CUT THE CHAT
● GRM DAILY
● LINK UP TV
● SPIFF TV
Favourite Arts & Entertainment/Lifestyle Site/Mag
● COZY MAG
● THE NUBLK
● MEDIA DIVERSIFIED
● THE BRITISH BLACKLIST
● THE TV COLLECTIVE
HONORARY WINNERS
This year, four Honorary Digital Awards are to be presented. Two first ever Digital Achievement Awards will be presented individually to outstanding Youtube gamer Olajide 'JJ' Olatunji aka KSI (@KSIOlajidebt) and the Youtube beauty and fashion guru Shirley B. Eniang (@ShirleyBEniang) with this year's Digital Vanguard Awards being bestowed upon writer/director of the Strolling Series, Cecile Emeke (@CecileEmeke) and Tolulope 'T-Boy' Ogunmefun aka Dont Jealous Me (@DontJealousMe) the hilarious comic actor and online personality. Congratulations to them all.
END
NOTES TO EDITORS
NOMINATIONS
Nominations have been shortlisted purely from a combination of public submission and pre-selection from the Screen Nation Digital iS Media Awards Executive Committee. The Committee is made up of respected and experienced professionals working in the UK digital industry.
VOTING
To cast a vote, please go to our new Digital is Media Awards site at: http://screennation.net/digitalis/#home Voting opens 1pm Tues 24th November and closes on Friday 18th December at midnight. The winner of each category will be selected by a unique combination of peer recognition and public votes.
HONORARY WINNERS
Olajide 'JJ' Olatunji aka KSI
Olajide 'JJ' Olatunji aka KSI the boy who started from his bedroom with a broken wardrobe and a sense of humour making gaming videos for the entertainment of his 7,000 subscribers. Fast forward 5 years and the 22 year old is making headlines while he's whipping around in his burnt out orange Lamborghini and working on his infamous videos reaching his 11 million subscribers.
22 year Olajide is a Youtube sensation, and his main channel is said to be the second most watched channel in the UK, capturing over 1.5 billion views. To put this into comparison, 19 hours after a video has been posted, it has hit 900,000 views. That's just under 790 views a minute. Is it the personality in his videos, is it the skill or is it the popularity that is bringing people to watch his channel?
Whatever it is, KSI has cracked it. However, he isn't just a Youtube sensation, in his own words "KSI is a brand, I'm a brand now." He's taken his brand to various outlets including merchandise, music and acting.. Yes, he has a song about his prized Lamborghini and has teamed up with JME to bring out a catchy yet attention grabbing song 'Keep Up.' Can you keep up with his rise of fame and fortune?
Some say he's an ambassador of Fifa on Youtube, while others just see him as the 'boy next door'. The most fascinating thing about the success of this Youtube sensation is how relatable his come up has been. Now he's been voted the fourth most influential figure among american teenagers, something which he understands is a big responsibility as well as an honour.
Screen Nation Digital is Media Awards proudly bestows the 2015 Digital Achievement Award to Olajide 'JJ' Olatunji
@KSIOlajidebt
Shirley B. Eniang
Shirley. B, Eniang, the vlogging beauty and fashion babe that has captured the eye of over 624,000 subscribers and counting. This gorgeous beauty obsessive showcases her beautiful outfits and impressive beauty buy hauls on her Youtube channel that she started back in 2009.
It all started from making her first subscription to the beauty channel of one her now favourite Youtubers, and from there she was inspired to join the community. With her own channel racking up over 37 million views, Shirley isn't just an interesting story, she's also an inspiration to her younger audience.
She's not just stunning on the outside, but on the inside too, keeping to her own motto of 'everyone should allow their beauty to shine from within'. She's also a keen photographer, and while off on the kind of holidays anyone would dream of she captures the beauty of the exotic places she's visited.
Shirley's not a typical Youtuber though, with dreams of making it big in the industry, she actually has a degree in mathematics and has previously mentioned to her followers that she would love to be a pilot! If she intends on flaunting those on fleek brows to the world from the pilot's seat, I'm sure the world would be happy to see them.
Emails from younger watchers expressing their thanks for Shirley helping to raise their confidence to features all about her come up in InTheStyle.com and Glamour tell everyone that Shirley B. Eniang is on the rise, and some would say unstoppable.
Screen Nation Digital is Media Awards proudly bestows the 2015 Digital Achievement Award to Shirley B. Eniang
@ShirleyBEniang
Cecile Emeke
Cecile Emeke is an impressive character who has had her work featured in stunning range of high quality media worldwide such as The New York Times, The Financial Times, The Washington Post, BBC, i-D, Dazed, Ebony, Fader and Shadow & Act, Essence, etc. Her work also extends to festivals worldwide including but not limited to The BFI London Film Festival, UrbanWorld Film Festival, The Tribeca Film Festival and many more. If that doesn't impress an aspiring filmmaker, it's hard to know what will.
Cecile Emeke roots lie in London, where her career in film making started after choosing to quit a degree in mathematics to pursue her dream. Now she's rolling with the best, making known she's "not scared of hollywood", and has had her Youtube channel viewed 847,000 times. Her work showcases interesting discussions around topics like Colourism, Afrofuturism, and respectability politics and not forgetting the fresh fashion. Topics, that Cecile voices, are rarely touched upon in the mainstream coverage of black youth culture.
Where did it all start for Cecile? She decided to start her own youtube channel to serve as a platform for black voices, as she believes that, that won't be found on UK television. She's most known for her global online documentary series 'Strolling' and her short film turned series 'Ackee & Saltfish' Cecile's not afraid to talk about gun and drug crime, but all through her work she has set out to explore less common themes of sexism and gentrification through light comedic material, allowing her to explore the politics of young black culture while still keeping to being a piece of art.
Screen Nation Digital is Media Awards bestows the 2015 Digital Vanguard Award with much pride and appreciation to Cecile Emeke.
@CecileEmeke
Tolu 'T-Boy' Ogunmefun aka Dont Jealous Me
Tolu Ogunmefun aka T-Boy or more familiarly known as Don't Jealous Me from the Youtube series of the same name is often described as a comic genius. Raised in Hackney, the young basketball phenomenon made a bold decision to move from Texas where he was an aspiring star, to move back to London and that was where his career as a comedian was born.
While in his room at university, he sporadically chose to make a series of comical rants for video starting with his now famous phrase 'Don't Jealous Me'. There his comedy series was birthed, eventually leading Tolu to being able to tot up over 30 million views online as well as over 150,000 subscribers.
He says he loves to cheer people up, so that's why comedy is so important to him. Being the class clown growing up, he loves to make people laugh but music is also a big part of his life, his track 'Hold onto Me' summarises his love for Afrobeat music.
Touring around the US and the UK, and being one of the most sought after African comedians is now part of his lifestyle. American fans have even invited him to perform his stand-up routine at Harvard University! having starred in a sitcom on London TV, 'The T-Boy Show', his come up is somewhat unstoppable and his loveable attitude on screen is winning the 'clicks' of subscribers at a fascinating rate.
One to watch would be an understatement, one to remember would be more appropriate. Although, how could you forget his name when it's starting to pop up everywhere you look in the digital entertainment world.
@DontJealousMe
THE RECEPTION, SCREENING & AWARDS CEREMONY - SUN 20TH DECEMBER
(6pm – 9.00pm)
Limited tickets to the ceremony are on sale here: www.digitalmediaawards2015.eventbrite.co.uk
Tickets also include entry to the official After-Party which is also the SCREEN NATION CELEBRITY XMAS SOIREE and includes a complimentary drink and gift bag (for VIP ticket holders) with music from top radio and club DJ's.
SCREEN NATION CELEBRITY XMAS SOIREE – SUN 20TH DECEMBER
(8pm – 12pm)
Limited tickets to the Xmas Soiree are on sale here:
www.screennationxmas2015.eventbrite.co.uk
MEDIA ACCREDITATION
Accreditation for all media to attend the Awards is open now and closes 6pm Tues 15/12 2015 All media advised from 12pm Thur 17/12
APPLICATIONS ONLY ACCEPTED HERE http://goo.gl/forms/ydGyqHwIAw
CONTACT
For press queries or more information about the awards, please email: [email protected]
SCREEN NATION
www.screennation.com
www.facebook.com/ScreenNationAwards
www.instagram.com/ScreenNation
www.twitter.com/ScreenNation
Screen Nation Digital-iS Media Awards
www.screennation.net/digitalis
#DigitalisMedia #DigitalisMediaAwards
KSI3
REUBEN2
SHIRLEY-B-ENIANG
TBOY2