PDP, Eghebi, Gov Okowa's Hate Campaign Against Emerhor: An Exercise In Futility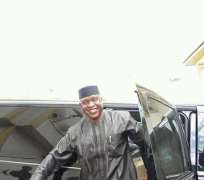 I laughed my heart out after reading a piece written by my good friend and DITO former colleague, Mr Williams Eghebi sponsored by the Peoples Democratic Party (PDP) and Caretaker Governor of Delta State, Senator Ifeanyi Arthur Okowa aka EKWUEME of PDP election rigging cult.
Eghebi skilfully played with words and took his readers on a stressful journey to justify why the Anioma people must unit to strangulate the political career or at best to stop Olorogun Otega Emerhor (OON) from ever becoming a governor in Delta State.
According to the author, Emerhor's criminal offence is anchored on his press statement in which he appealed to APC supporters in the State to remain calm as rumours made the rounds that no Delta South or Delta Central party man or woman's name featured in the Ministerial list alleged to be under scrutiny by the Department of State Security (DSS).
Emerhor had in his statement widely published reassured APC party faithful and supporters that President Muhammadu Buhari is aware of the need to balance federal appointments in line with existing procedures and emphasised the need for the Presidency to take notice of federal appointments presently enjoyed by Delta North.
It was alleged in certain quarters and in press reports that renowned Professor of Political Economy, Prof Pat Utomi from the Anioma Nation is on the list of nominated Ministers.
The taboo committed by EMERHOR is not unconnected with the mention of the Central Bank Governor, the New Group Managing Director of the Nigrian National Petrolem Corporation who are prominent sons of that ethnic nationality already occupying juicy federal appointments.
Eghebi in his tedious and hate article, slow, mild but highly incisive urged the people of Anioma Nation to go for the head of Emerhor for having the boldness and the liver to say what he said.
Haven taking you into the main stream or the nucleus of why Eghebi, PDP and Okowa wants Emerhor rusticated politically, I will now state that Eghebi being a PDP youth leader in Agbor and a member of certain State boards and agencies wrote as a politician who is all out to crucify his opponent at all cost which is why his appeal to the Anioma Nation to bite the nose and ears of Emerhor cannot achieve its desired objective.
The author was one of those who wrote extensively on why power should of a necessity shift to Delta North before and after PDP primaries. He further justified his position with the fact that Delta Central and South politicians had governed the State and that it was the turn of Delta North for the sake of equity, natural justice and good conscience.
Eghebi openly, on several occasions referred to people of Delta Central as greedy tribal bigots who failed to embibe politics of give and take.
The same Eghebi now have the moral justification and WILL POWER to attack Emerhor for saying that Anioma Nation alone cannot collect all juicy federal appointments to the detriment of Delta Central and South respectively. His article is directly the opposite of his earlier claim that Delta Central and South politicians cannot alone govern the State.
The statement by Emerhor is that of a good son reminding his father who have many children from different mothers that you cannot favour the children of one of your wives to the detriment of the children of the other two wives.
I am pretty sure that if the CBN governor and the Group MD of NNPC and a Minister were from Urhobo Nation or Delta Central, William Eghebi, Anioma Nation and Okowa will organise public protest at the seat of power in Abuja to remind PMB that all is not well with the federal appointments.
Eghebi and his selfish and self centered PDP politicians have displayed unreasonable tribal sentiments that is likely to generate ethnic and political conflicts among Deltans if they do not retrace their steps.
The best thing to do at the moment is for the author to apologise to the people of Delta Central and Delta South for waging unnecessarily intellectual war against an Emerhor who was bold enough to speak the naked truth.
I rest my case, waiting to read Mr Eghebi's timely apology if truly he is a man with good conscience.
Emerhor deserves a standing ovation from all and sundry for speaking the truth that will deepen the unity, love and progress in Delta State.
Disclaimer:

"The views/contents expressed in this article are the sole responsibility of

Dr Fred Latimore Oghenesivbe, M.NIIA

and do not necessarily reflect those of The Nigerian Voice. The Nigerian Voice will not be responsible or liable for any inaccurate or incorrect statements contained in this article."