Gani Adams Is After My Life-OPC Chieftain Cries Out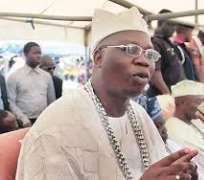 A Chieftain of the Oodua Peoples Congress, OPC, and a member of the National Coordinating Council of the group, Comrade Adesina Akinpelu has raised the alarm over an attempt on his life by those he called 'Gani Adams' boys'.
According to him, attempts have been made on his life by Gani Adams' boys and that it was God that saved him.
"On the 17 0f August 2015, a team led by Rotimi Olumo, Adeola Adeagbo, Jide Julius and others came to my office fully armed with sophisticated weapons but as God would have it I had left my office with the National Coordinating Council of the OPC who were in Ibadan to honour a television interview on why Gani Adams must resign as the National Coordinator of the group."
Akinpelu stated that he has since reported the incident to security agencies in Oyo state. "After that attempt, I have been receiving numerous calls on my handset where some faceless people have been threatening to end my life because I demanded from Gani Adams to give account of his stewardship to all members of OPC. The crime people like us have committed against Gani Adams is that we demanded for accountability in the way and manner Gani Adams is administering the OPC. But because he runs OPC as his personal property; he has branded some us enemies."
Akinpelu added that Gani Adams is seriously after his life and that he has pronounced 'Fatwa' on his head since he (Akinpelu) and members of the National Coordinating Council called for accountability in the way and manner the organization was being administered.
"I want to state here that, this is not the first time Gani Adams would be going after the lives of those who at one time or the other challenged his dictatorial tendencies. He has penchant for threatening and making attempts on the lives of those are opposed to his tyranny. Similar attempt was made on the life of Alhaji Odo, former coordinator of the OPC in Kosofe LG at Ipaja Ayobo in Lagos and it was reported at Ayobo Police station. Also, attempts were made on some members opposed to him at Somolu Bariga and the case was equally reported at Pedro Police station."
Akinpelu who urged security agencies to commence full investigation into alleged attempt on his life said that if anything happens to him, Gani Adams and his boys in person of Rotimi Olumo, Adeola Agboola and others should be held responsible.
All we demanded from Gani Adams was for him to give account of his stewadship of the OPC which he has literaly turned into his personal property. But because he has so many skeletons in his cupboard, he has branded some of us enemies who must be eliminated at all cost.
"Gani Adams must step down for independent assesment of his regime as the National Coordinator of OPC. No matter the amount of mis-information and intimidation and violence Adams resorts to can save him, in as much as his predecessor was removed from office in 1999 for basically the same offence of partisan politicking. We the members of OPC removed Faseun and replaced him with Adams; therefore Adams cannot claim to be beyond the discipline of members. His case is tantamount to 'Ila re tin ga ju onire loo."