Photos: Kanye West Announces Intentions To Run For President In 2020 At Mtv Vmas
… As Katy Perry, Nicki Minaj, Fetty Wap, Others Win Awards.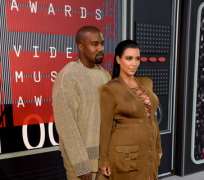 Lagos|Nigeria: The 2015 "MTV Video Music Awards" took place at the Microsoft Theater in Los Angeles, with several of the performances emanating from the VMAs Downtown Los Angeles stage outside the iconic Orpheum Theatre. Host Miley Cyrus delivered a raunchy rainbow spectacle dripping in glitter, wild outfit changes, and hilarious skits featuring the likes of Andy Samberg and Snoop Dogg.
Kanye West received the Michael Jackson Video Vanguard Award at last night's "MTV Video Music Awards" in a 13-minute speech in which he reflected on his life and work, artistry and consumer culture - not to mention his at times tenuous relationship with award shows. Upon receiving the award from Taylor Swift, West expressed regret at crashing the stage during the 2009 "MTV Video Music Awards", but remained defiant in his defense of artistes. Then he declared his intention to run for President in 2020…
Taylor Swift won four Moonmen, including "Video of the Year" for her sci-feminist epic "Bad Blood" at the 2015 "MTV Video Music Awards", emerging as the evening's big winner. Swift also won "Best Female Video" for "Blank Space" and Mark Ronson and Bruno Mars took home "Best Male Video" for their infectious hit "Uptown Funk".
Nicki Minaj opened the show perched atop a throne sculpted of backup dancers to tear through banger "Trini Dem Girls." Minaj then segued into her soaring single "The Night Is Still Young" and, though indeed it still was, the surprises started early.Taylor Swift unexpectedly emerged from below the stage to join Minaj for the performance in an epic, chill-inducing squashing of beef.
The Weeknd performed a muscular, funky version of hit "Can't Feel My Face" while bathed in red light. The Canadian artist shuffled around the stage before settling into a ring of fire that blazed up from the floor below and rotated around him.
In one of the show's most anticipated moments, Justin Bieber's triumphant return rose to new heights as he took flight above the crowd to punctuate a medley of his hit Jack Ü collab, "Where Are ÜNow?" and newly released single "What Do You Mean?" After a dramatic solo entrance in silhouette, Bieber blazed through the tracks and some tight choreography before the room went black, and the star reemerged in a single cone of light to fly high above the stage. Bieber returned to the ground winded and moved to tears.
For the final performance from the downtown block party, Pharrell Williams gave an explosive performance of his emancipation anthem "Freedom" under the night sky. Williams open with a spoken word freestyle before being joined by a troupe of dancers, who ripped through a routine of throwback dance moves that matched the retro-swing of the track. The performance concluded with a single firework shooting into the air about Broadway.
In a surprise performance, host Miley Cyrus closed the show with psych rock legends The Flaming Lips for her beautifully bizarre new track, "DOO It", which invokes love, peace, the universe and flying saucers. Cyrus emerged from an LED screen projecting extreme close ups of her glitter and sprinkle-smeared mouth, and was followed close behind by a brigade of drag queens in fluorescent unitards. In a stunning turn of synergy, many of the girls were veterans of "RuPaul's Drag Race", the hit series on MTV's sister network, Logo.
The winners are…
VIDEO OF THE YEAR
Taylor Swift ft. Kendrick Lamar – "Bad Blood"
BEST MALE VIDEO
Mark Ronson ft. Bruno Mars – "Uptown Funk"
BEST FEMALE VIDEO
Taylor Swift – "Blank Space"
BEST HIP HOP VIDEO
Nicki Minaj – "Anaconda"
BEST POP VIDEO
Taylor Swift – "Blank Space"
BEST ROCK VIDEO
Fall Out Boy – "Uma Thurman"
ARTIST TO WATCH presented by Taco Bell®
Fetty Wap – "Trap Queen"
BEST COLLABORATION
Taylor Swift ft. Kendrick Lamar – "Bad Blood"
VIDEO WITH A SOCIAL MESSAGE
Big Sean ft. Kanye West and John Legend – "One Man Can Change the World"
SONG OF SUMMER presented by Samsung Galaxy Tab S2
5 Seconds of Summer — "She's Kinda Hot"
PROFESSIONAL CATEGORIES
BEST ART DIRECTION
Snoop Dogg – "So Many Pros" (Jason Fijal)
BEST CHOREOGRAPHY
OK Go – "I Won't Let You Down" (OK Go, air:man and Mori Harano)
BEST CINEMATOGRAPHY
Flying Lotus ft. Kendrick Lamar – "Never Catch Me" (Larkin Sieple)
BEST DIRECTION
Kendrick Lamar – "Alright" (Colin Tilley & The Little Homies)
BEST EDITING
Beyoncé – "7/11" (Beyoncé, Ed Burke, Jonathan Wing)
BEST VISUAL EFFECTS
Skrillex & Diplo – "Where Are U Now" with Justin Bieber (Brewer)
Tune in to the primetime premiere of the "MTV Video Music Awards" on MTV Base (DStv channel 322) tonight, Monday 31 August at 19:00 WAT (pre-show) and 20:00 CAT (main show).
CHRISSY TEIGEN AND JOHN LEGEND
JUSTIN BEIBER
KANYE WEST AND KIM KARDASHIAN
KYLIE JENNER AND TYGA
MILEY CYRUS 1
MILEY CYRUS AND JARED LETO
MILEY CYRUS
NICKI MINAJ AND KIM KARDASHIAN
TAYLOW SWIFT AND SELENA GOMEZ
THE BAD BLOOD CREW
THE WEEKND
VANESSA HUDGINS