BeeCee Ugboh releases a brand Video " Bobata" + Audio "Constant God"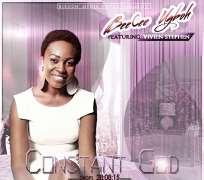 Beecee Ugboh is out with a brand new musical Video titled "Bobata" and an Audio titled "Constant God". The simple lyrically captivating "Bobata" will give you a definition of what Christian Rap is without losing gap of the message.
The worship Audio single "Constant God" has been enjoying massive requests and downloads.
Upload Link:
https://my.notjustok.com/track/32037/beecee-constant-god
Video:

Mobile Download : http://bit.ly/1NMdgSf
Brief Bio
BeeCee Ugboh is an amazing singer and rapper who is from Delta state precisely. She has constantly been on top of her game and she rcently won the Xclusive Gospel Next Rated Award Fans choice for BEST GOSPEL COLLABORATION and BEST GOSPEL RAP/HIP-HOP for the song "I GAT FAITH" (FEAT. OBIWON)
She remains a lover of Christ and through her songs she has constantly promoted the Gospel.
Connect:
Facebook: BeeceeUgboh
Instagram: BeeceeUgboh