Obingwa INEC's Office Arson: Climax Of Desperation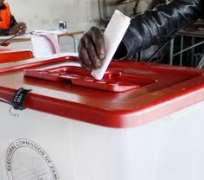 The immediate past Nigerian leader, President Goodluck Jonathan's political disposition is a course Nigeria politicians need to study in their quests and aspirations for power. President Jonathan taught contemporary political players the true meaning of being a democrat when he accepted the result of the March 2015 presidential election in defeat without seeking to overheat the polity for selfish reasons.
Whereas many of his supporters felt he may have been undone by a massive political conspiracy from within and outside the country, he gallantly chose to accept the result as announced by INEC and promptly congratulated his opponent. To date, political pundits agree that singular act of statesmanship saved the country from the brink and also allowed the winner the lattitude to work for Nigerians without the distractions of a challenge at the tribunal.
On the other hand, the Governorship aspiration of Mr. Alex Otti, a former banker, who rose to the office of Managing Director of Diamond Bank Plc for about two years, is a study in political desperation. Former President Olusegun Obasanjo once described Otti's brand of politics as "do or die politics". The common denominator with this brand of politics is that those who practice it accept only their victory as an outcome in any election they are involved in.
Before the end of his service as Diamond Bank MD, Otti indicated interest in the governorship election of Abia State, and joined the Peoples Democratic Party (PDP) and membership card with card number 16 was issued to him in Arochukwu Ward 3 of Arochukwu LGA of Abia State.
Shortly afterward, Otti began to lobby the high and mighty in PDP to ensure he emerges the governorship candidate of the then ruling party. One of those he lobbied was the former governor of the state, now Senator Theodore Ahamefula Orji, who is currently representing Abia Central Senatorial zone in the Senate.
According to Senator Orji, Otti, while still in office as MD of Diamond Bank, offered the then Governor Orji a whooping N3b to secure his support ahead of the PDP primaries of November/December 2014. But Governor Orji turned down Otti and his offer and told him that he has already publicly promised to support an Ngwa man to emerge as Governor in 2015 and the party (PDP) has further narrowed it down to Abia South because only that senatorial zone is yet to produce Abia's Governor out of the three senatorial zones of Abia State.
Having failed to secure Orji's support and mindful of the popular thinking in Abia in favor of a Governor of Ngwa origin, Otti, on July 18, 2014, wrote the PDP chairman in Abia, seeking transfer of his PDP membership from Arochukwu ward 3 in Arochukwu LGA to Ehi na Uguru/Osokwa ward 5 in Isialangwa South LGA.
The letter titled: "Transfer of party registration/membership" reads: "I, Dr Alex Otti, a registered member of PDP in Arochukwu award 3, with ward registration numbers 16, now resident at Umuru Umuehim Nvosi in Isialangwa South Local GovernmentArea, Abia State, hereby request that my party registration/membership be transferred to Ehi na Uguru/Osokwa Ward 5 in Isialangwa South Local Government Area of Abia State." This marked the beginning of Otti's claim of Ngwa nativity and denial of his Arochukwu patrimony. The rest is history, like they say.
When all his effort to secure the PDP governorship tickle failed, Otti, who obviously was a greenhorn in politics dumped the PDP for the crisis-riddled All Progressive Grand Alliance (APGA), and was able to bribe his way through to the Governorship ticket of the Chief Victor Umeh faction of APGA.
Otti's desperation for power was obvious during the electioneering campaigns. He did everything to malign Governor Okezie Ikpeazu of the PDP. Otti introduced the politics of blood in Abia, with his hired thugs from a neighboring APGA controlled state, who were handy to inflict havoc in areas Otti was not welcomed. On several occasions, supporters of Ikpeazu where attacked by Otti's armed thugs at Aba, Isukwuato, Umuahia, Obingwa etc.
The event that led to rerun of the governorship contest was another show of desperation by Otti, who apparently had concluded that his money was all he needed to buy his way to the Abia governorship seat. But he was resisted and contained by Abia electorates, especially those of the Ukwa/Ngwa extraction who stood by one of their own-Dr Okezie Ikpeazu. Otti lost the supplementary polls held in full media and observers glare and Dr Okezie Ikpeazu was rightfully declared winner by INEC and subsequently sworn in.
As expected by many who knew how desperate he wants to occupy the office of Abia governor, Otti who approached the election petition tribunal where he is challenging his defeat by Governor Ikpeazu, has continued to prove Abians right that Ikpeazu is a right choice after all with his desperate plots.
It is no secret in Abia that Otti who has perfected plans to dump APGA for the All Progressive Congress (APC), has the support of an APC former governor from the South South, to ensure that he becomes governor from the tribunal at all cost. And they have marshaled out plans to actualize the carefully hatched plots.
Plan A of their plot is to lobby for relocation of the tribunal to Abuja from Umuahia for the remaining days of the tribunal. To actualize this plot, Otti and his co-travelers have settled at creating crisis in Abia. This plot is the reason behind Otti's recent false alarm of attempt on his life. He wanted to create the impression that some element within Abia are after his life, hence Abia is not safe for him and his supporters, thereby calling for a relocation of the tribunal. One wonders how this can sell in the face of the fact that he chose Umuahia as venue for his press conference whereas he claimed that it was his Abuja guest house that was attacked while he was enjoying peaceful protection in Abia State governed by Dr Okezie Ikpeazu. But knowing Otti's predisposition to currying sympathy through lies and deceit this is not unexpected.
Their plot is that if the tribunal is relocated to Abuja, he can get impostors as witnesses, since he is finding it extremely difficult to prove his case at the tribunal. He also expects that it will be easier for the Federal authorities to lean on the judges of the tribunal to favour him if relocated to Abuja.
The plan B, as revealed by PDP intelligence sources, is to bribe some Judges of the court of appeal where they will head to after the tribunal gives its ruling. To give teeth to this plot, Otti was said to have recruited an Appeal Court Judge of Abia origin as his anchor person to induce other Judges to do his bidding. For a man who believes that money can buy anybody, this is not surprising.
The climax of Otti's desperate plots appears to be the recent burning down of INEC office at Obingwa. Recalll that the governorship result from Obingwa LGA, which happens to be the home LGA of Governor Ikpeazu is among the areas Otti is contesting at the tribunal. Burning down INEC office at Obingwa scores cheap propaganda points for him as he hopes to put the blame on his opponent's supporters.
Of course we know that Otti will not feel any qualms dropping the name of the President in his desperate bid to compromise the top echelon of the Judiciary. But it is imperative to state that any attempt to interfere with the tribunal by any group or individual will be resisted by the good people of Abia State. Majority of Abians are happy with the progress being recorded in the state by Dr Okezie Ikpeazu's administration. Massive road construction works are going on at Aba, Umuahia, Arochukwu,
Abiriba and Abam. Salaries are being paid and ghost workers removed from the state's payroll. Sanitation has improved at Aba with massive gutter desilting works ongoing alongside dredging of Aba river to enable it receive storm water and end flooding of the city after rainfall. Businesses are returning to Aba daily as security of lives and properties is given new impetus under Governor Okezie's watch.
If not for political desperation even Alex Otti would have appreciated these giant strides of Dr Okezie Ikpeazu within his first 60 days in office. The least he can do is allow the election petition tribunal determine his case on merit and cease distracting the Governor with his power mongering schemes.
Also, interlopers who are bent on causing unrest in Abia must have a rethink because every of their plot will be confronted.
•Abakwuo writes from Aba, Abia State
Disclaimer:

"The views/contents expressed in this article are the sole responsibility of

Chinonyerem Abakwuo

and do not necessarily reflect those of The Nigerian Voice. The Nigerian Voice will not be responsible or liable for any inaccurate or incorrect statements contained in this article."