Drama Series 'The Book Of Negroes' Set To Premiere On Bet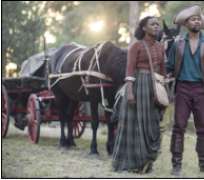 BET (DStv Premium, channel 129) is boosting its historical drama slate this August with the premiere of critically acclaimed mini-series The Book of Negroes .
Directed by Clement Virgo, and starring Oscar winners Cuba Gooding Jr. and Louis Gosset Jr., The Book of Negroes is a powerful re-telling of Lawrence Hill's 2007 award-winning novel of the same name. The six-part mini-series centres around the life of 19th century slave, Aminata Diallo(Aunjanue Ellis), who bravely navigates the perils of the slave trade in an attempt to secure her freedom.
Eleven-year-oldAminata is abducted from her village in West Africa, placed in shackles and sent across the ocean to be sold into slavery on a South Carolina plantation. She falls in love and marries a fellow West African slave named Chekura but when their baby is brutally abducted and sold by a jealous slave master, Aminata becomes determined to return to her homeland.
The onset of the Revolutionary War helps Aminata flee her new owner in New York. Using her ability to read and write, Aminata successfully petitions British abolitionists, who organize passage to Africa for 1,200 former slaves – a final voyage that will reunite her with her homeland and allow her to voice her life story.
Shot on location in Canada and South Africa (Cape Town), The Book of Negroes features strong performances from a host of South African actors and actresses, including Fana Mokoena, Siya Xaba, Andile Gumbi (Isibaya), Nondumiso Tembe (The Avengers: Age ofUltron , True Blood , Generations ), Thishiwe Ziqubu, Zethu Dlomo and Anele Matoti.
The Book of Negroes premieres exclusively on BET on Monday August 17 at 8:10 PM.
To find out more about about The Book of Negroes, go to www.betafrica.tv , like BET on Facebook at www.facebook.com/BETinAfrica , or follow us on Twitter and Instagram @BET_Africa. Join the conversation on social media using the hashtag #BookofNegroes