KC and Wife Step Out As Star Quest Crowns Jukebox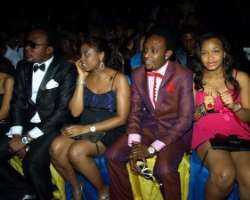 Kingsley steps in with his Mrs. Right : Emmy and partner
First ever star Quest winners KC Presh and their brother-pal Emmy were one of the major attractions at the Star Quest finale held in Lagos last weekend. Dressed to kill, and with their partners by their side, the young men walked tall and proud; as they arrived the venue and joined in the fanfare. Being the first-ever Star Quest winners, and the most successful so far, it was their night; as well as the night of the band that'll go home with the top prize
And, if you were one of the many followers of Star Quest 2010, then you will agree that the emergence of Juke Box as winner on Saturday April 3, 2010 did not hit many as a surprise.
The team (made up of Eghosa Frank, Joshua Itietie, Agunpopo Josephine Olamide, Wilson Emeka, Epanty Gregory and Asindi Sam) had the winning line of attack from the start, and like The Pulse did last year, they stood out even before the finals.
This is probably due to the fact that Juke Box unlike the other groups that existed in the Star Quest house had a rapper who also majors as a lead guitarist, and even though they were times his lyrics were weak and watery, Joshua Itietie always had vocalist Josephine Olamide to lean on, as she never fell short of expectation when it comes to live delivery.
No doubt, the instrumentalists in Juke Box were not as good, organized and thorough as those in "Ace Vibes"- The team that eventually emerged third, but as RuggedMan the host of the show was in the business of telling the contestants day in day out "It is not about your personal talent, it is how well you are able to work together as a team"
Perhaps, "Juke Box" did not only heed Rugged Man's advice, they also made team work their number one rule. "Juke Box" earned a total of 19873 votes while "Sapphire Blue" and "Ace Vibes" got 15480 and 11719 respectively.
They are proud owners of a N7.5 recording contract, a brand new band bus, a home in Lagos and a 3.6 million Naira cash prize
SIX QUICK FACTS ABOUT JUKE BOX
•They are the fifth bands to emerge winners of Star Quest. Past winners include KC Presh, D'Accord, D'Jewels, Diamonds, and The Pulse.•The band is the only team with a rapper who also majors as lead guitarist. •Juke Box composed and rendered two new songs at the Star Quest house. •They won a N7.5 recording contract, a brand new band bus, a home in Lagos and a 3.6 million Naira cash prize
•They earned a total of 19873 votes before they were announced winners on April 3, 2010•The band is a six man team comprising of Eghosa Frank, Joshua Itietie, Agunpopo Josephine Olamide, Wilson Emeka, Epanty Gregory and Asindi Sam
Story by nollywoodgists.com