PLAY BOY MANSION?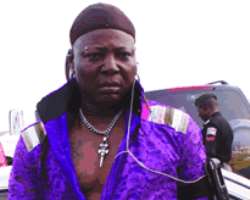 Big Bros!
Yeah, you are the original weird one but what's with the purple frills? bros, all evidence point to the fact that you are wearing Lady D's dress. Where was she when you pilfered her top? This honorable court respects you so much, but we can't look the other way when you just flouted section123 of the style constitution. This case would be adjourned till the next hearing on May 7th . We hereby summon Lady D to appear at the next hearing.
Victoria's Secrets?
Reports reaching us show that this same exhibit was displayed at Gatankowa near Abule Egba. Even if you are wearing a Victoria Secrets bra, don't you think it's better to keep it under wraps? These kegs of yours remind us so much of that advert years ago with the song 'pump up the volume'. You are hereby fined N800,000.


.


Victoria's Secrets?


Cheese!
We were told that while you flashed a smile to the camera, your tits also said 'cheese' to the camera. Well, since you have declared a public holiday for that pair, you are fined the sum of
N700, 000.


Booty cheeks
Haba! How come your boot is opened to every Alli Baba, Ay, Basket Mouth and Julius Agwu? Section45, subsection 256a of the low rider constitution says, 'always buy the right size or make sure you use a belt'. You have been pronounced guilty and sentenced to Kirikiri Medium Prisons for six months with hard labour.


Walking porn
Is this a bad joke or you went for a casting at Playboy Mansion? If we are looking for the best word to describe a walking porn, then we don't have to go too far. Moreover, today is not January 17, a day set aside for fallen heroes, or we are making a mistake? This is so bad. You have been sentenced to life imprisonment!