Exposed!!! Chief Diekevie Ikiogha Embezzled The N3billion Agric. Loan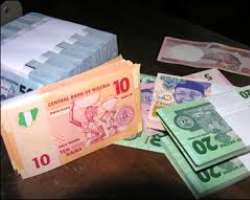 1. Bayelsa Transparency & Accountability Forum (BTAF)–a not-for-profit Organization has threatened to expose the former Commissioner for Agriculture under the defunct Timipre Sylva administration Chief Diekivie Ikiogha about the N3 billion, which he embezzled without administering the loan to prospective beneficiaries.
The Forum is particularly angry that while the loan gave farmers in the State hope for economic survival, Mr. Diekevie Ikiogha lavished the money to build his personal estates in Yenagoa. The Forum vehemently demands that the petty Epie Chief should to cough out the money or get dragged to court.
2. Let it be known that during the administration of former Governor Timipre Sylva, the sum of N3 billion was earmarked for Agricultural loans to farmers and the said money was passed through the Ministry of Agriculture under the tutelage of Mr.Chief Diekivie Ikiogha, The spokesman of the Group Comrade Goodluck Izonfade said their investigations showed that the said Ikiogha spent the money on the development of real estate in Yenagoa. By these actions Mr. Diekivie Ikiogha deprived Bayelsans of the opportunity of getting loans to boost agricultural production, with their spill-over effect. Our investigations also revealed that the obviously furious former Governor Timipre Sylva also used his swagger stick on Ikiogha's head for the wicked act of misappropriation of public funds but could not proceed because the former Governor himself is corrupt.
3. Farmers in Bayelsa State are now demanding that Mr. Ikiogha coughs out the money or face prosecution before the Economic and Financial Crimes Commission, EFCC. Chief Diekevie has converted public funds into personal use. Bayelsa Farmers have even organized to protest against this brazen act of corruption and may be forced to attack the personal property of Chief Diekivie Ikiogha in Yenagoa as a means of self-help. The Forum said the demand for transparency and accountability is a legitimate demand, especially at this time Bayelsans are eager to diversify the economy especially in the area of agriculture.
The Bayelsa Transparency and Accountability Forum do hereby demands that Chief Diekevie Ikiogha submits himself to EFCC, as the Forum has instructed its counsel to proceed with filling papers that would drag Chief Ikiogha to EFCC as soon as it is practicable. This is one corruption too many as it directly affects the well-being of the ordinary Bayelsan '
If Ikiogha refuses to cough out the money, his personal property in Bayelsa State will not be safe, as the farmers will stop at nothing in attacking his personal property, the spokesman said!. The group has given Chief Diekivie Ikiogha up to the end of July to reply or answer to the EFCC.
Comrade Goodluck Izonfade
For and on behalf of the Bayelsa Accountability Forum
23rd June, 2015