No Doubt PDP Is Taking Power In Four Years To Come—Dr Ardo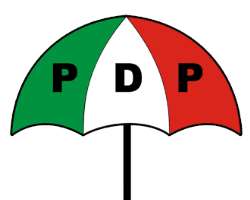 The former gubernatorial aspirants of the People's Democratic party (PDP) in Adamawa state,Dr Umar Ardo said the will no doubt reclaimed her mandate back in twenty nineteen.
Ardo said this immediately after the elders of the party in the state had a meeting at the Secretariat of the party in Yola.
"I want to assure PDP is come out strong, no doubt about it the party is taken back power in four years time".
Umar who is to chair a committee that was formed to know why all the problems in PDP that made many follower to run away from the party, and to also know reasons on why the party lost the 2015 election woefully.
He promised to work out a good modality that will proffer solution to the party's ills and will revive the party that many thought is no more.