NASS: Reps in rowdy session over choice of principal officers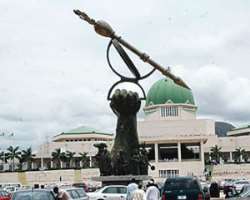 The House of Representatives was this morning thrown into crisis over the alleged unresolved principal officers position.
Trouble started immediately after prayers when the Speaker called for a motion for a close door session.
Just as Hon. Order-Jev Emmanuel Yisa, was standing to move the motion for close door session, some members rushed straight to grab the mace but it was stoutly resisted by people loyal to the Speaker Hon. Yakubu Dogara.
One of the lawmaker's shirt was torn in the process in the midst of the melee, even as the People's Democratic Party, PDP, members started chorusing APC shame.
Some APC members were shouting that the Constitution of the country was supreme to any other directive from the party.
It was gathered that the bone of contention was the alleged imposition of principal officers by the leadership of the APC against the principle of federal character.