Actress Bolanle Abdulsalam releases new pictures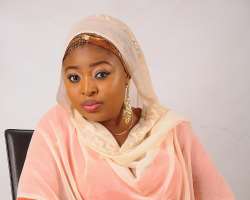 Recently, the actress cum producer; Bolanle Abdulsalam released new pictures as she joined other Muslims around the world in preparation for the coming Ramadan.
In her words, 'I welcome you all; my beloved brothers and sister in Islam; to the Holy month of Ramadan; In the month; Almighty Allah will accept your dua and grant your request , wish you all have a blessed Ramadan'
This native of Ekiti State, who studied History and International Relations at the Lagos State University, also has in her kitty as a producer, Itakun Ife, Kosenitoye and Aturota amidst various movies which she has featured in.
The fast rising Nollywood actress, Abolanle Adbusalam is happy at the moment. And this is as a result of the achievement one of herself produced flick, Oba Adetoyese, at the recently held Odua Movies Award in the United States of America.
According to sources, Oba Adetoyese shone at the award ceremony after the lead actor; Muyiwa Ademola won the award for the best actor of the year for his role in the movie.