I am not dating Jim Iyke–Yvonne Nelson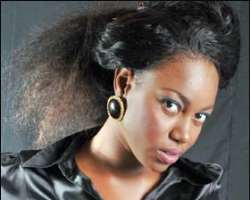 Beautiful Ghanaian actress, Yvonne Nelson has denied the news making the round that she is having a clandestine romantic relationship with Nigerian actor, Jim Iyke.
In a telephone chat with us again from Ghana, Yvonne said she is not dating the actor; that they are only 'very close'. "Jim is a nice person, we are very close but I am not dating him" she said.
The actress defended the fact that she was sighted in Jim's room. She said: "we are staying in the same hotel, Adonai Hotel and in the course of working and relaxing we mingle together. That does not mean anything happened. Nothing happened behind the close doors as you are suggesting" she said amidst laughter.
Jim Iyke also denied the story but not without shedding light on how the two acts who have been known to keep to themselves became so close to the extent of going to cinema and mall together.
"We are working together and staying together in same hotel so there is no way we won't interact. I was always hanging around the pool by myself and one day she came around to hang out there too because she likes to keep to herself too. We got talking and realized we're pretty much alike and that is it. The other day they saw us at a mall, we were all there shooting with the crew, why didn't they see the other crew? And at the cinema, is it a crime for me to go watch a movie with a friend?
We were not shooting that day and she was going out alone. I asked her where she was heading and she said cinema, I then followed her, and there is no big deal to that. This is something every other person does. They hang out; make friends and the likes. Why is it that when I do the things regular people do journalists will start writing?'
Story by nollywoodgists.com