N/West, S/West, Yobe caucuses endorse Lawan for Senate Presidency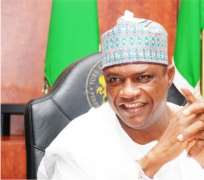 The three-horse race for the Eighth Senate Presidency may have narrowed down to a two-horse race be­tween the North East and the North central.
The two geo-political zones, it was learnt, have commenced intense lobby of both ranking senators and senators-elect and are leav­ing nothing to chance by also going outside the Senate to secure the much-needed en­dorsements.
The two major contenders as at Friday, May 8, are Sen­ators Ahmad Lawan from Yobe State (North east) and Bukola Saraki, Kwara State (North central.)
It was gathered yesterday that two caucuses in the Senate chamber, the North west and South west have now endorsed Sena­tor Ahmad Lawan as their candidate for the next Senate President.
Twelve APC members of the South west Senate caucus reportedly endorsed Lawan at a meeting held in Abuja last week.
In addition, Senator La­wan secured a crucial home support when a former gover­nor of his home state of Yobe, Senator Bukar Abba Ibrahim, who also heads the Yobe Na­tional Assembly Caucus, en­dorsed his candidacy for the position.
Ibrahim, who heads the Senate Housing Commit­tee, said the endorsement was made on behalf of the people and government of Yobe State. 'Lawan possesses the required qualities, character and the frame of mind to make a qualitative Senate President. He is energetic, hardworking and possessing progressive values.
'Senator Ahmad Ibrahim Lawan has demonstrated clear commitment to progressive values. He is energetic and hardworking and he has what it takes to lead the 8th Assem­bly,'
Senator Ibrahim added that Lawam's cognate experience, having been in the National Assembly since 1999, 'places him above his peers,' he said.
Yobe State Governor has also, openly endorsed Lawan and has reportedly reached out to his colleagues on the matter.
In an advertorial published in Weekly Trust, an Abuja-based newspaper, Yobe State Governor, Ibrahim Gaidam, dismissed earlier reports that he was not in support of La­wan's aspiration.
In a statement by his Spe­cial Adviser on Press Affairs and Information, Abdullahi Bego, the governor urged 'all senators-elect to consider Sen­ator Lawan's experience, his goodwill, capacity and reach and, therefore, support him to be the next President of the Senate.'
Governor Gaidam also took strong exception to a report published in a national newspaper last week which claimed that he supports an­other candidate and that he was against Lawan's aspira­tion.