#MySuperStarStory: I Dropped School For Music Without Knowing If I Would Make It - Davido
Davido Reveals Risk He Took As An Upcoming Artiste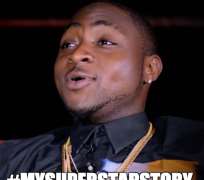 Davido is arguably Nigeria's biggest young artist and has gone from strength to strength since making his debut in 2011. He recently sat down for a #MySuperStarStory interview where he revealed that despite his comfortable background, achieving success was not straightforward for him.
Born David Adeleke as the last of five children, Davido revealed that his desire to pursue a career in music did not fly with his dad, moreso because leaving school at the time for an unsure career was a huge risk. According to him, it was the grace of God that made him successful even beyond his own expectations.
He summed up his advice for upcoming artistes and fans this way: "You don't need to do it because somebody else is doing it. You need to love what you're doing and know that that's what you have a passion for."
You can watch Davido's #MySuperStarStory video here.
#MySuperStarStory aims to celebrate and recognize stories of triumph over adversity and thus inspire young Nigerians to be successful. There is a STAR in everyone. You can join the conversation and share your own superstar story on social media using the hashtag #MySuperStarStory.