Timaya Escapes Auto-Crash?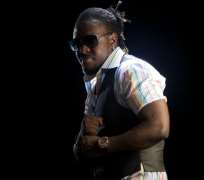 If the information reaching us is anything to write home about, but for the special grace of God, mourning would have by now pervaded the entertainment industry because of what happened to a talented singer Timaya who hails from Bayelsa State.
According to eye witness account, the dread lock wearing musician who was recently in a convoy coming from the direction of Lagos Airport road, perharps due to over speeding the car which he personally drove, a two door milk colour Toyota Camry ran into the median that divide the road.
Many who watched as the car moved toward the median, thought it was going to be a write off situation, but luckily it was only the front tires that burst immediately while the front part of the car was a complete wreck.
But thank God for his mercies as the Egberi Papa I of Bayelsa was said not to have sustained any major injury. Timaya in his usual manner however, denied that it was not himself that was involved in the accident, we pray he should always be lucky to post denials over issues because a more fatal one would not have given him room to denial.
Story by nollywoodgists.com