A RENOWNED PROPHET FROM NIGERIA FORSAW BERUSCLONI'S ATTACK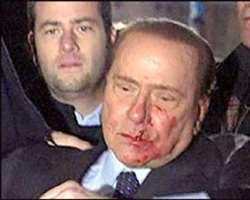 The Italian Prime Minister, Silvio Berlusconi
Prophet TB Joshua of The Synagogue, Church of All Nations, on Sunday, the 13th of December 2009, during live service asked his members to pray for the president of one great nation.
These were Prophet T B Joshua's words: "In Jesus' name I see an attempt on a president of one of the great nations. Pray for protection. Open your lips. In Jesus' name we pray. I see a narrow escape – very narrow but too narrow but the whole thing failed. But we continue to pray; we continue to pray".
Hours after Prophet TB Joshua's prophesy, news splashed across screens worldwide about an attack on the Italian Prime Minister, Silvio Berlusconi.
During an appearance in Milan on Sunday to rally support in advance of March elections, the Italian Prime Minister Silvio Berlusconi was hit in the face by a statuette, allegedly hurled by a man in the crowd. The missile fractured his nose, broke two of his teeth and injured his lip. Berlusconi, who was hit in the face and bleeding profusely from the mouth, was rushed into a car and driven away to be examined at a hospital.
Media reports identified the alleged attacker as Massimo Tartaglia, a 42 year old man. Tartaglia allegedly approached Berlusconi as the 73-year-old prime minister was leaving a rally of his People of Freedom (PdL) party. Berlusconi was apparently hit in the face by a miniature replica of the Milan Cathedral.
The attacker with a history of mental illness has been charged with throwing the souvenir. After a night of questioning at a police barracks, the man was moved to the San Vittore prison in Milan, the ANSA news agency said. Police have identified him as Massimo Tartaglia.
The Italian Prime Minister, Silvio Berlusconi stayed in hospital for observation overnight and is set to remain there 'til Wednesday according to his doctors.
Prophet TB Joshua has been known for giving accurate prophecies and I believe it's high time the people of the world joined Prophet TB Joshua in prayer whenever he gives prophecies.
Development / Accra / Ghana / Africa / Modernghana.com