Obasanjo, Jega Enemies Of True Democracy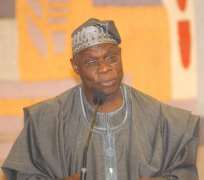 For taking sides always against Jonathan, allowing personal grudges to over-ride the interest of the nation has clearly exposed former President Olusegun Obasanjo as enemy of true democracy. On the other hand, failure of Prof Attahiru Jega to accept his failure for lack of adequate preparation and shifting the blame on the military has also exposed his hidden agenda as being sympathetic to the presidential candidate of All Progressives Congress (APC) Major General (retired) Muhammadu Buhari.
On this ground, Nigerians should consider the failure of Obasanjo to act as father to Jonathan of the same member of Peoples Democratic Party (PDP) as part of his determination to avenge refusal to take orders from him like military formation. It is also for the inability to determine who should be appointed into one political office or another. I am not surprised with about attitude of Obasanjo who has suddenly turned a saint overnight throwing stones deliberately to frustrate Jonathan. Will God sleep in heaven for the failure of a former President to manage the weaknesses of your Jonathan but will prefer to attack him in the public. Ability to manage the weakness of your friends, subordinates and political associates is the reason for sustenance of relationship.
Obasanjo's antecedent
There is nobody within or outside Nigeria today that is not aware that Obasanjo has a mission to frustrate Jonathan from being re-elected for the second term. But attention should be paid towards the past if there is anything that Jonathan is doing today that Obasajo has not done the worst to be tagged enemy of democracy even during his regime as the President of Nigeria. If Nigerians can easily forget the past, history is a good reference point to unearth the past particularly how Obasanjo failed to provide good environment for his Vice President Alh Atiku Abubakar to operate.
Nigerians should not forget that when one of the loyalists of Obasanjo is raising questions about his weakness on a particular project or policy, he becomes an ingrate and a corrupt leader. It is true that Obasanjo is good at bringing up unknown personality as long as the person will not query any of his unholy actions and mistakes such as his failed third term agenda which his daughter Iyabo openly criticized him through a letter as his idea. Is this Baba taking everybody to be like him? Why must he compare Jonathan with Laurent Gbagbo?
Obasanjo has been talking about corruption and yet cannot tell Nigerians the process of acquiring kilometers of farmlands and houses in Ota. Or former President is truly innocent will he also not tell Nigerians, how many oil and gas projects frustrated because the project promoter failed to allow any of his fronts to acquire equity in the project. I have so much respect for Obasanjo as elder and a father but it is unfortunate that he does not consider the consequences of his brutal statements. I am not so sure if he has ever considered the fact that his action will pull down rather than build and grow Nigeria?
From his series of attack on the personality of Pres Jonathan, this is the right time for him to stop what I consider a ploy to pave way for APC and an opportunity to bring back Buhari who served as the Federal Commissioner of Petroleum and Chairman of Nigerian National Petroleum Corporation (NNPC). Obasanjo who has quickly realized that it will be easier for him to control Buhari as his senior in the military is not truly fighting for the future of Nigeria but ability to get what he wanted from the system.
If Obasanjo is fighting hard to damage Jonathan, Nigerians should not forget that the move is to enjoy opportunities offered by Buhari which led to the disappearance of $2.78 billion (now $3 billion). Nigerians should not forget that the relationship of Obasanjo with former President Shehu Shagari became cat and mouse race when he backed the investigation of NNPC account by the National Assembly. Even though information gathered revealed that the report was damaged immediately after the takeover by Buhari, it is very difficult for Obasanjo who was the Head of State at that time to exonerate himself.
Jega's insincerity
As the saying of my father, it is better to run away from gentle and unassuming person so as to avoid a shock. Equally, many marriages crashed in the past due to failure of the partners to accept their mistakes and willingness to say I am sorry. The refusal of INEC Chairman Prof Atahiru Jega to blame the commission for the failure to distribute PVC and make everything available for the election. He should apologise to Nigerians for misleading the electorate as if Pres Jonathan is responsible for the postponement.
Already his action and utterances is already making Nigerians not to trust his ability to conduct free and fair election. If the election was allowed to take place, it would have been annulled by the Judiciary . Such annulment would have confidence issue on Pres Jonathan because nobody would have trusted Jega again.
We should not forget that Prof Barth Nnaji resigned his appointment over the double interest in the privatization of PHCN assets. In this regard, his partisanship and support for Buhari is not an hidden fact and for this reason, Jega should resign voluntarily to be able to mobilize for Buhari and not use government instrument to attract votes for him.
A week after the postponement of the election, fact about the distribution of INEC PVC should be disseminated to the general public. Acting otherwise shows that Jega is another enemy of true democracy in Nigeria.
Conclusion
It is clear that the government will not fail to arrest Obasanjo in case of coup attempt. This is the time for Obasanjo to have a change of heart.
Samuel Ibiyemi is the publisher of Ng NewsDirect, wrote via [email protected]
Disclaimer:

"The views/contents expressed in this article are the sole responsibility of

Samuel Ibiyemi

and do not necessarily reflect those of The Nigerian Voice. The Nigerian Voice will not be responsible or liable for any inaccurate or incorrect statements contained in this article."