Vote Of No Confidence On Governor Rochas Okorocha Of Imo State—A Serial Women Abuser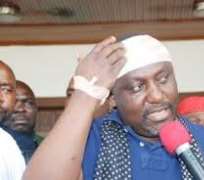 Imo Citizens, under the umbrella of Diaspora Imo Citizens Coalition, (DICC) have become concerned and horrified by the persistent gross disrespect and unchecked violence meted to Imo State women by Governor Rocha Okorocha.
These untoward behavior by Mr. Okorocha are typical manifestations of an insecure abuser. These characteristics include feeling of lack of control, inadequacy, entitlement, manipulativeness, contradictions and serial battering. What's unique about Rochas' condition, and which makes him a disgraceful coward, is that he mostly directs his aggression at women, when confronted with his lies and roguish predispositions. He
finds brutalizing women a convenient outlet to compensate for his shallow intellectual capacity and subnormal testosterone levels.
It is too bad for Mr Okorocha, that this is the 21st century; our women are educated to be the best they can be and to contribute equally to societal development. That Rochas would rather have our women be seen
not heard, barefoot and pregnant, speak volumes to his hollowness and failure as an administrator. Suffice it to say that this primordial chauvinistic behavior of Mr. Okorocha must be condemned and declared totally out of bounds.
This violence against our women by Rochas has to stop. Now! Just within a short time frame, he described Senator Chris Anyanwu as "a prostitute, who slaps her husband...", puts out a press release using similar gutter and lack-of-family-values language in abusing our erudite Professor and globally respected former Supervising Foreign Affairs Minister and now Minister of State for Education, Her Excellency Viola Onwuliri. He called her "Otuashi
1"- meaning the utmost liar, while his aids accused her of killing her husband, Professor Celestine Onwuliri, who died over 2 years ago, in a Plane Crash. The darkest moment of Okorocha's violence against women was when he unleashed his thugs to physically beat up widows on peaceful demonstration at the Government House in Owerri.
Dozens of whom sustained various degrees of bodily injuries, some hospitalized and a few stripped naked. These are acts of a demented bottom barrel scraper and hooligan that do not represent our values.
Violence against women and girls is a grave violation of human rights. Its impact ranges from immediate to long-term multiple physical, sexual and mental consequences for women and girls, including death. It negatively affects women's general well-being and prevents women from fully participating in society.
Violence not only has negative consequences for women but also their families, the community and the country at large. It has tremendous costs, from greater health care and legal expenses and losses in productivity, impacting national budgets and overall development. It therefore, must be forcefully stamped out wherever it rears its ugly head.
It is against this background that we strongly condemn in its entirety this violence against women perpetrated by Gov. Rochas Okorocha on Imo State women and indeed all women. We furthermore, on behalf of our over 50,000 members across the globe unanimously pass a vote of no confidence on Governor Okorocha and his ignoble administration, for this despicable unacceptable behavior, and urge that he be voted out of office in the upcoming elections!
We will also, in the coming days, be filing a petition with the United States government and the United Nations Human Rights Commission, to put Governor Okorocha on a NoFly-List designated for terrorists, human rights violators and abusers to ensure he never steps into the United States or any Western countries again.
Additionally, we will be filing, in the coming weeks law suits in various jurisdictions through which major airlines fly into the US and other Western countries, so as to intercept and bring Rochas to justice should he attempt a visit Aware that Okorocha is an evil low-lifer who would use anyone for his nefarious activities, we wish to hereby warn everyone, be they members of his executives, traditional rulers, media aids, praise singers etc.to desist from being used by Mr. Okorocha, for his sinister motives or risk being targeted for sanctions as well.
We did not choose this fight; Rochas brought it to our women like the coward he is; now he has to deal with the consequences. May God continue to protect our Women and Girls from predators like Rochas Okorocha!
About Diaspora Imo Citizens Coalition:
We are a non-profit, human-rights and good governance advocacy organization, established to protect the interest and well-being of Imo State citizens globally
Long Live Our Women and Girls
Long Live Imo State
Signed:
1. Prof. (Mrs) Bertha Osondu (USA)
2. Prof. (Mrs) Rita Udochukwu (USA)
3. Prof. Edward Oparaoji (USA)
4. Barr. (Mrs) Nonye Onyejekwe (USA)
5. Barr. (Ms) Chika Anyanwu (USA)
6. Barr. (Mrs) Lillian Eze (UK)
7. Prof. Vincent Ugo (UK)
8. Prof. (Mrs) Agatha Chijoke (USA)
9. Arc. Bob Eke (South Africa)
10. Dr. Lionel Nnodim (China)
11. Dr (Mrs) Edith Ezedi (UK)
12. Dr. (Mrs) Nkechi Ozichukwu (USA)
13. Mrs Ijeoma Agada (UK)
14. Dr. (Mrs) Uloaku Njoku (UK)
15. Dr. (Mrs) Cyrina Elem (China)
16. Chief (Mrs) Lauretta Izu (USA)
17. Chief (Mrs) Christina Onyekwere (USA)
18. Engr. Bartholomew Nwachukwu (UK)
19. Engr. Sunny lwuji (EU)
20. Mr Desmond Nwogu (EU)
21. Prof. Charles Nwaiwu (EU)
22. Dr (Mrs) Chinyere Nwandu (South Africa)
23.Mr Ezeji uhi (Nigeria)
24. Dr. Robert Wachukwu (EU)
25. Dr. Longinus Unachukwu (USA)
26. Prof. (Mrs) Janet Nwaoparah (EU)
27. Mrs vivien Ngaonye (EU)
28. Dr. (Mrs) Ezinne Nwogu (UK)
29. Dr (Mrs) Chinenye Obidike (USA)30. Chief (Mrs) Harriet Obineche (USA)
31. Dr (Mrs) Irene Odunze (USA)
32. Mrs Ogechi Okoro )USA)
33. Mr. Linus Francis (USA)
34. Mr Jude Chilaka (UK)
35. Prof. (Mrs) Ngozi Odindu (EU)
36. Mr Joseph Ekechukwu (EU)
37. Dr Mathias Ejere (USA)
38. Engr. Damian Chukwu (USA)
39. Barr. Victor Okezie (USA)
40. Barr. (Mrs) Jovita Okezie (USA)
41. Rev. James Ejim (USA)
42. Rev. Tobias Ikem (EU)
43. Dr. Joe Ekeada (UK)
44. Prof. Brown Igbokwe (South Africa)
45. Dr. Charles Osuagwu (EU)
46. Chief (Mrs) Christiana Ibe (USA)
47. Mr. Godwin Ezedibia (USA)
48. Dr. Bethran Ogbonna (USA)
49. Mr. Jasper Ibe (UK)
50. Rev Dr. Rowland Elechi (South Africa)
51. Prof. Geoffrey Ohuka (Australia)
52. Mrs Roberta Nnadi (USA)
53. Mrs Regina Iroka (USA)
54. Dr. (Mrs) Linda Onuoha (UK)
55. Prof. (Mrs) Emmanuella Ekechukwu (USA)
56. High Chief Bruno Nwanze (China)
57. Chief Daniel Igbo (UK)
58. Dr. Paul Nwaneri (USA)
59. High Chief Oliver Igbokwe (EU)
60. Chief (Mrs) Frances Nweze (USA)
61. Dr. Alban UzodIke (USA)
62. Mr Dom Ezeocha (EU)
63. Mr. Eze Nwanna (USA)
64. Mr Lucky Nwana (USA)
65. Mrs Alex Nwanna (USA)
66. Mr Nnadozie Ukah (Australia)
67. Chief (Mrs) Franca Ukah (USA)
68. Dr. Philip Nwizu (EU)
69. Nze Chuks Chukwuma (UK)
70. Prof. Pascal Amaefule (UK)
71. Mr. Kevin Nnadozie (USA)
72. Mr. Basil Onyegbulem (USA)73. Dr. (Mrs) Callista Onyegbulem (USA)
74. Barr. (Mrs) Rose Ekechukwu (UK)
75. Chief (Mrs) Fidelia Ugwo (China)
76. Dr. Vincent Nwaka (Australia)
77. Engr. Ihuoma Okere (USA)
78. Mr. Chidi Chibueze (USA)
79. Mr. Friday Obisike (UK)
80. Dr. Uzor Ndulaka (UK)
81. Barr. Leo Nwokoleme (USA)
82. Mr. Ferdinand Ezeagu (South Africa)
83. Mrs Portia Samuel (South Africa)
84. Mrs Katrina Ndukwe (USA)
85. Chief Larry Ezewuiro (USA)
86. Mr. ignatius Ezekwe (EU)
87. Mrs Lauren Onwukwe (UK)
88. Mr. Valentine Udoka (UK)
89. Mr. Ikechukwu Ezeoha (UK)
90. Dr. Dozie Nwahiri (USA)
91. Mr Elias Nneji (EU)
92. Dr (Mrs) Ada Iwunna (UK)
93. Chief (Mrs) Lisa Chidebelu (USA)
94. Prof. Marcel Abara (Indonesia)
95. Dr (Mrs) Chichi Ubochi (USA)
96. Mrs. Pauline Onyekachi (EU)
97. Engr. Lacerian Njoku (UK)
98. Mrs Veronica Uche (USA)
99. Prof. Maurice Nwaobiara (USA)
100. Mrs Gloria Anele (USA)
101. Barr. (Mrs) Nancy Jideofor (USA)
102. Dr. (Mrs) Cecilia Opara (South Africa)
103. Engr. (Mrs) Doris Nwuche (EU)
104. Barr. Eke Nwakpa (UK)
105. Dr. Fidelis Njoku (Australia)
106. Prof. (Mrs) Barbara Onuaku (USA)
107. Prof. (Mrs) Teresa Obilor (USA)