See Amazing Pictures Of Florence Epee MWAI2015 By Top Photographer Christian Sankeur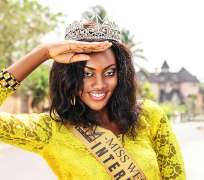 New images of Florence Epee, Miss West Africa International 2014/5 have surfaced. The west African beauty queen from Cameroon who took home the crown is looking extraordinary hot in new images by her official photographer Christian Sankeur.
Christian who is an established photographer and retoucher from Cameroon, Douala, was handpicked by the beauty queen to be her official photographer after she was presented with a list of pro photographers from Cameroon.
Florence is currently one of the few people to make it to the 2nd years of Masters in public law studies in the University of Doula of which she is celebration. The brains and beauty queen made it clear that she wanted a photographer that could bring the most out of her. Her values, charity work, modeling, beauty, and intelligence all at once.
The Miss West Africa title is a very established pageant title, and the most important thing about the organizations establishment is its image and presentation. Hence why the organization decided to have one of the best photographers from Cameroon play this role. Christian maybe new to many but the quality of his work is beyond perfect. Enjoy the results of the new images of Florence Epee for her upcoming feature in Gambian/UK magazine Jojo's Mag, and look forward to much more.
Florence Epee www.instagram.com/iamflorenceepee
Christian Sankeur [email protected] www.instagram.com/chrisalide_photography
Miss West Africa: www.MissWestAfrica.com www.instagram.com/misswestafrica
DSC0170-PHOTOSHOP - COPY
DSC0244-PHOTOSHOP - COPY
MISS1 - COPY