Polls: We can't afford to fail— Uduaghan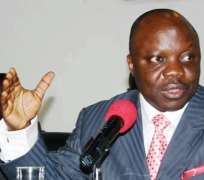 Delta State Governor, Dr. Emmanuel Uduaghan, has said that peaceful elections in Nigeria cannot be compromised as the country cannot afford to toy with its unity.
Speaking, yesterday, in Asaba, at a voters' education meeting with traditional rulers, Governor Uduaghan said that all hands must be on deck to ensure that the country gets it right as the consequences of failure would be disastrous.
He said that the government, the Independent National Electoral Commission, INEC, security agencies and stakeholders were working together to ensure that the forthcoming elections were free, fair and devoid of any form of violence.
He said: 'As much as possible, we want to totally remove violence during elections and one way of achieving this is through proper voter education. Ignorance can lead to violence and there are many people out there who are not well informed about issues surrounding the temporary voters card, permanent voters card and the voting processes.'
The governor said everything would be done to ensure that there was no violence during and after the elections, adding, 'We are determined to have peaceful elections in Nigeria and Delta State in particular. It is important and very critical that we have peaceful elections.'
He disclosed that there were still about 6,000 permanent voters cards yet to be collected and urged traditional rulers to inform their subjects to endeavour to collect their voters cards before the deadline.
Uduaghan observed that Delta State has recorded peaceful electioneering campaigns and informed the traditional rulers that President Goodluck Jonathan would lead the campaign train of the Peoples Democratic Party, PDP, to Asaba today for a rally and urged all Deltans to remain peaceful throughout the period.