I Have Different S*x Toys B'cos I Don't Want Multiple S*x Partners – Tinsel Actress, April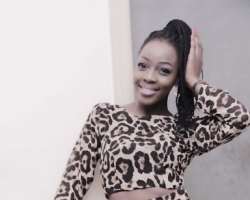 April – Tinsel and Nollywood actress (born Joju Muse)
She looks pretty, chic, innocently sweet and trendy enough to pass for a stylish undergraduate; even appears timid to the point of being unable to consume a big cup of strawberry flavoured milk-shake in public glare but don't be deceived by her looks, Joju Muse, fondly called April, is an exotic dynamite clocked behind the thin veil of immense talent, a convincing passion for acting, a mind as clear as the drops from a spring and a charm that knocks on the doors of boundless possibilities.
In this exclusive and very revealing interview with iCampus, from which just a portion was extracted for this piece, the chocolate-complexioned Tinsel actress, who plays the role of 'Sammie' (the hostess in Ziggy's Bar), spoke about her acting exploits all through 2014, her role in Tinsel, her undying crush on Nollywood actor, Ramsey Nouah, which once drove her to express her desire to have s*x with him and bold statements about her s*x life and intimate experiments.
In 2014, Muse sustained her impressive run in Tinsel, a Nigerian soap opera, known for its line-up of high profile movie stars including the likes of Iretiola Doyle, Victor Olaotan, Funlola Aofiyebi-Raimi, Gbenro Ajibade, Chris Attoh, Linda Ejiofor, Osas Ighodaro, Kalu Ikeagwu, Anne Njemanze, Gideon Okeke, Damilola Adegbite and Tomi Odunsi among others but for April, her acting exploits didn't stop there.
For those who do not know, April was cast in half a dozen movies last year (Tinsel exclusive) but when poked about questions bordering around vivid details of her s*xual life, April's bold, confident and uncensored side of her personality was slowly undressed as she took us into the inner chambers of her intimate life as captured in the 'question and answer' format below, which as we mentioned earlier, just forms a tip of the iceberg that her 'full' interview, which will be served later forms:
What do you when you want to have s*x?
(Laughs) It all boils down to what I have said. S*x is sacred and it's not something you just do or something you just open your legs to do. It's not that easy for me. I would rather do s*x toys. S*x has a lot involved. It has emotions, attachments, spirituality. S*x is supposed to be sacred. It's supposed to be a ritual for me. It is a thing two people indulge in because anybody you sleep with, there is a connection. You are connecting with them. Then, how many people are you going to sleep with? How many people do you want to now have s*x with? It means if you are going to be delivered, you'd have a lot of bondages to break. That is even more stressful. It means you will fast extra and pray extra and for heaven's sake, you don't even know who your partner has been sleeping with. So, if he now decides to keep two more s*xual partners and that partner decides to keep two more extra partners; two extra partners times two more extra partners, you know, it goes a long way. That is why s*x is sacred to me and it shouldn't be abused. It's not like I've not had s*x before or trying to be holy or something but it is just from own point of view that s*x should be more like a ritual between two people.
What kind of s*x toys do you use?
Oh no…. (Laughs) Don't be like that. Well, I have the G-Spot stimulator, the regular vibrator, the Dildo, and there is this small one called 'Rabbit.'
When last did you have s*x?
Hahaha… I can't remember. It has been a while since I had s*x with a human being because there are still many things to think about.
How often do you use your toys?
How often? Maybe, two times in a month. And you know that when I mean two times in a month, as a lady, you only get turned on few days before your period and few days after your period. You know, you feel very 'very' horny.
Can you still have s*x with Ramsey Nouah whom you have always had a strong crush on?
At first, I was misconstrued. The 'I want to have s*x with Ramsey Nuoah' doesn't mean I'd just strip him naked and have s*x with him. It's just a way a woman feels when she is crushing on somebody. I still crush on Ramsey Noah till whenever. I've been crushing on him for a very long time and I will still continue to crush on him but that does not mean I would literally strip him naked and pounce on him – Naaa! That's the wrong perception people have of me. Women have secret crushes inside but I'm just one kind of person who lets her feelings be known to the world.
By Samod Biobaku
Additional reports by Famous Oneshioagbe of iCampus newspaper